Sketching at the Metropolitan Museum of Art
This last week I spent two mornings sketching at the Metropolitan Museum of Art. Deborah, an EDM member who lives nearby, joined me on Monday January 19th to sketch. We previously conversed by email, so we sat and sketched and talked for several hours before moving to the museum cafeteria for lunch. We chose the Arts of Africa, Oceania, and the Americas because there were benches nicely positioned in front of the primitive art. Here are three of the artifacts that I sketched, colored with watercolor pencils, and then "painted" with my Niji waterbrush although I knew that this was bending museum rules slightly. The watercolor pencils allowed me to replicate better the very unevern colors of this huge wood sculpture.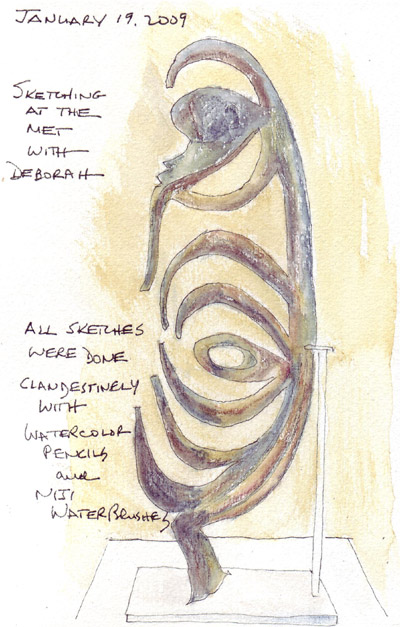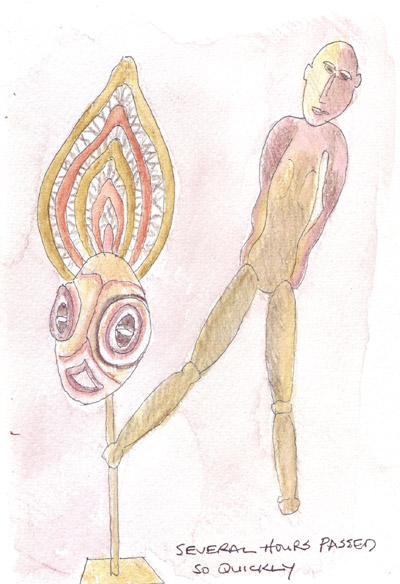 Yesterday I met Jane, one of my new friends from Danny Gregory's recent illustrated journaling class, at the Met. I taught her how I recycled old books with watercolor paper the previous Friday and she brought 3 fabulous books that she just finished to show me. I sketched Aphrodite in the Greek and Roman galleries before Jane arrived, and then a primitive "Seated Figure" from Mali (13th C) in the Montebello exhibit as we toured it. Both of these were also done with watercolor pencils and then finished with my Niji waterbrush.