Quilt Festival 2008
I began to attend the annual International Quilt Festival (in Houston) when I lived in Texas and continued this yearly pilgrimage after I moved to New York City. This was my 24th year and it was as informational and inspirational as ever. A wonderful old friend accompanied me making the 4 days even better. I took classes, went to lectures, and wandered the entire convention center surveying new products and exceptional textile art. It was hard to spend a few minutes completing my daily sketch before bed at night, but I tried to make the pages a visual journal of my important daily activities. I used the sketchbook that I bound with Fabriano Artistico soft press 140 lb watercolor paper for the first time.
I inherited my husbands old iPod (and playlist) and took it with me to listen to on the airplane.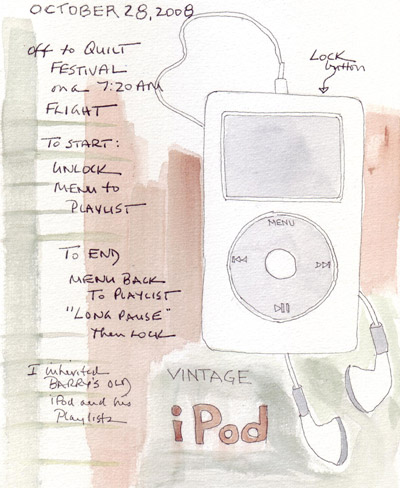 Festival opened at 5PM and on Wednesday evening I sketched a face inspired by one of the award-winning art quilts, tried to use a teeny silk screen for watercolor, and sketched the logo for the huge program of events.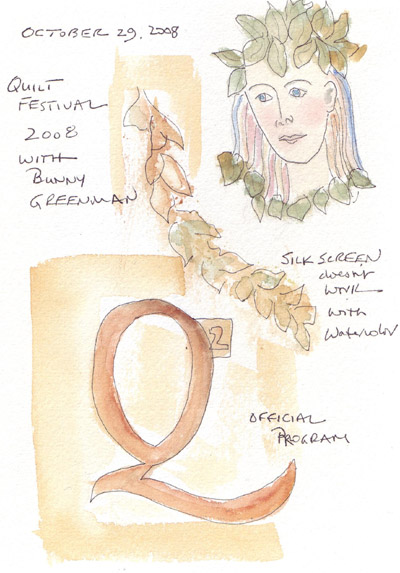 On Thursday afternoon I took a class that was part of the Silk Experience series and painted a beautiful series of silk color squares that were in the room and the piece of layered silk that I learned how to felt using a manual felting tool. Hand dyed silk roving is gorgeous and I now need to decide how to use some of it in my projects at home. The painted square at the bottom right is made of layers of silk roving, silk gauze, silk Dupioni, and silk cord - all felted to a piece of silk batting. I may need to add small beads to it and make a decorative pillow.
On Friday I took two classes - Stitch-resist Shibori on silk in the morning and Stamps, Stencils, and Embossing (on velvet) in the evening. The top sketch is a poor-likeness of my teacher drawing the stitching pattern for our first piece of shibori. The bottom sketch is the pattern I made for my silk-screen and stencil work.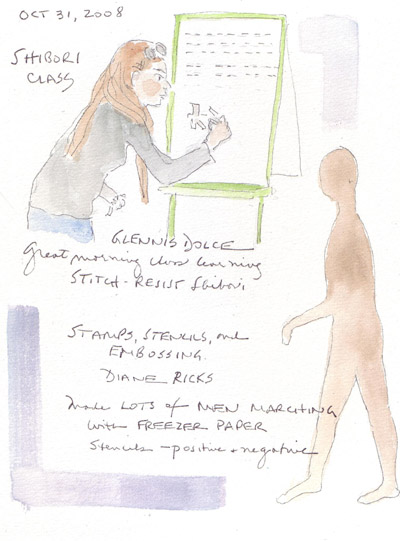 On Saturday I attended a morning session where 20 mixed-media artists demonstrated their techniques. Although I always use procion MX dyes for my surface design on fabric, I was interested in trying fabric paints to convert some of my sketches from paper to fabric. These are just paintings of the bottles of the primary colors and a 4th bottle where I painted the remaining colors, from the set of 8 that I purchased. I also love metallics mixed in and bought an additional jar of antique gold. It is good that I will be retiring next year so I will have the time to play creatively on paper and on fabric.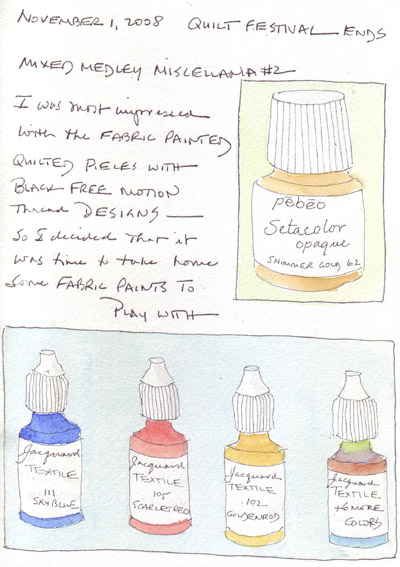 Early Sunday AM I flew to San Antonio. my old home in Texas, to attend a medical meeting and I will post those journal pages tomorrow.