EDM Challenges 172 & 177 + Seurat Drawing
I'm always happy when I can post an EDM Challenge before the next one is announced. These exercises are great for me to do and I try to stretch my skills a little with each one.
We were on vacation when the "Sparkle Challenge" was posted and I really wanted to try to capture the light of a gem stone. I'm not very good painting reflections and I kept looking for a big stone. I even took a photo of the Hope diamond when we were in DC. But then I decided to just draw a Bulgari bracelet from an advertisement and move on.
I also took photos of cute little Capitol Hill houses with flags blowing in the breeze on our trip to DC because I knew that ! couldn't draw a moving flag. Then, at the end of my taxi ride to Union Station following my meetings, I looked up and saw the facade of the station. I grabbed my camera, took several photos and headed inside for my train back to New York.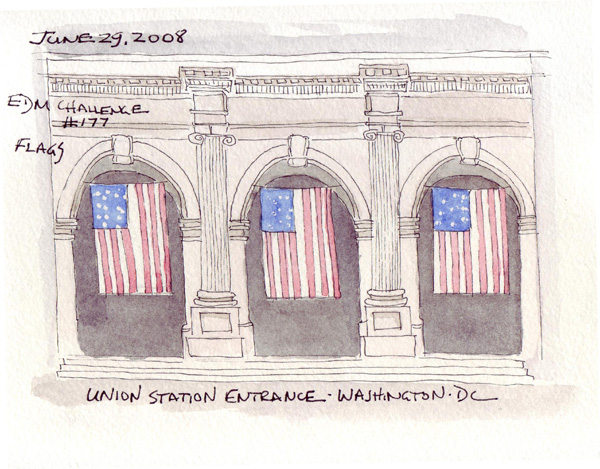 I loved the Seurat Drawings Exhibit at MoMA NY and was especially fascinated with the paper (click on the Conservation button). This is especially interesting because I don't even sketch with Conte or charcoal. I looked up the Michallet paper and learned that the modern day equivalent is available at NY Central Art Supplies. I bought a sheet while I was there on Saturday just to experiment with it. I ripped it into smaller pieces and now will play with it, using Seurat's drawings as my inspiration. Here is #1 - done with a 1/8th sheet and a Derwent Drawing pencil.