Every Day in May 8 and 9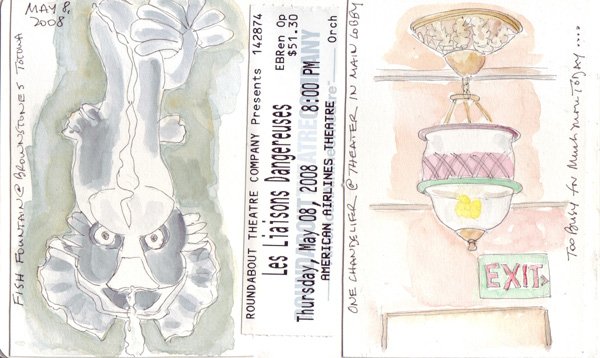 Yesterday was so busy that I made two really quick drawings on small pieces of watercolor paper I keep for "emergencies" in my purse notebook, painted them at home this AM, and collaged them into my sketchbook. The fish was one of a line of small, wall-mounted, fountains in a restaurant and the chandelier was one of several in the lobby of the theater. Since I sketch every day but usually only post several sketches per week, you're now seeing all of my journal pages - the good, the bad, and the ugly - in order to participate in Every Day in May.
I had time after my ballet class this morning to sketch/paint before I picked up Sydney and Robbie at their nursery school. The ballet studio has many advertisements for dance programs and classes and I usually manage to find one photo that inspires me. While I type this, Robbie (2 1/2) is taking his nap and Sydney (3 1/2) is watching our videotape of the Mary Martin Peter Pan Broadway show for the umpteenth time. But when I pulled out my sketchbook to scan the pages, she asked if she could watch Peter Pan AND paint at the same time! She will be here with us for the next two nights, so I think we'll do lots of painting and coloring.