Giant Pandas at the National Zoo
I had a few minutes on Tuesday after my meeting at the Marriott Wardman Park in Washington DC ended and walked up Connecticut Avenue to the National Zoo to see and sketch the Giant Pandas. More than 20 years ago, I sat with my young daughter and sketched a Panda eating bamboo - and it didn't move for 20-30 minutes. The Panda Habitat has been recently renovated and there is a baby that was born in July 2007. I was able to see Mom, Dad, and Baby (who appears fully grown) and they were all in perpetual motion!
Here are a few quick sketches that I did when they stopped for 30 seconds!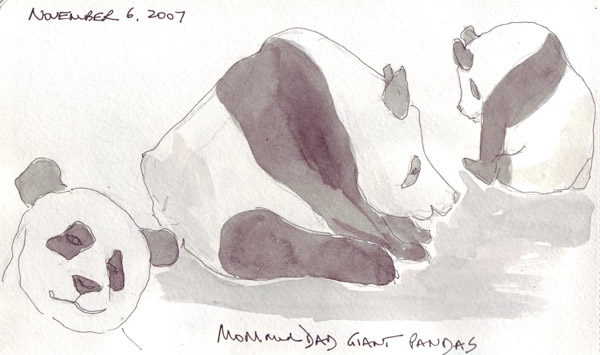 There are 3 cameras in use at all times to track the pandas and volunteers (working in 3 hour shifts)move the cameras around continually to keep the Pandas in view on the screen. If you Google Panda cam you can see the 2 from the National Zoo and the 3rd that is sponsored at the zoo by Animal Planet.
I still love watching them - and was thrilled to have the time to walk up to the Zoo.