Sketchcrawl: Casey, Sandy, and Shirley
Casey, Sandy, and I met this morning at 10 and spent the day sketching together in Central Park and the Metropolitan Museum of Art. It is so much fun to meet other EDM members - who you feel like you know from reading their blogs, enjoying their art, and exchanging comments.
Sandy and I would like to sketch faster and looser like Casey - so we watched her carefully! The 3 of us will upload our individual journal pages as they are completed - I'm not sure that mine are too different from my normal style as much as I tried.
Here are two photos: We started at the Toy Boat Pond, moved to Bethesda Fountain, then had lunch at the Central Park Boathouse. We ended the day on the Sculpture Garden Roof and in the Greek and Roman Galleries at the Metropolitan Museum of Art. Left to Right: Casey, Shirley, Sandy.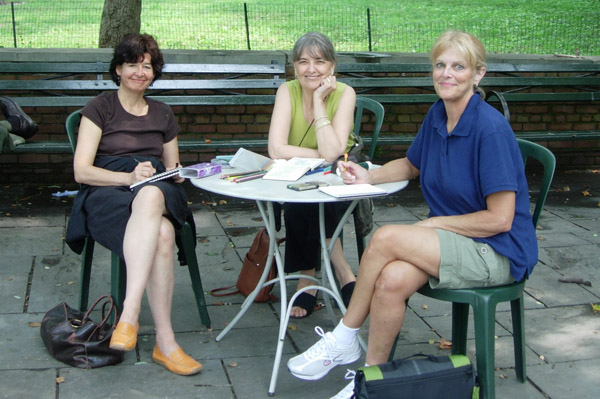 On the Sculpture Roof at the Met with the NYC skyline behind us: Shirley, Casey, Sandy
We all sketched random people at the cafe at the Toy Boat Pond, Bethesda Fountain, the Boat House restaurant where we had lunch, a statue in the Greek and Roman Galleries, and an Etruscan Chariot. However, Casey sketched lots more! Here are my sketchbook pages, in that order: