Sunday Afternoon at the Guggenheim New York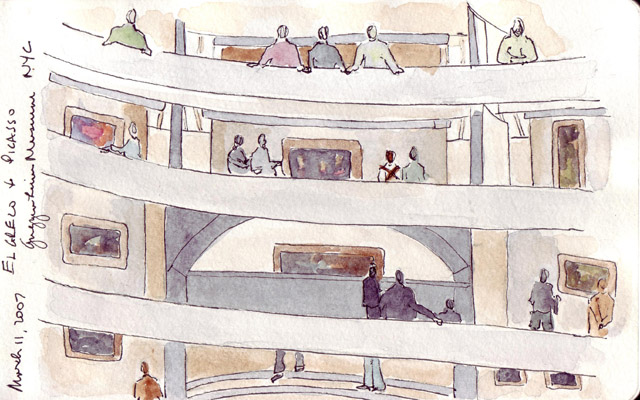 We visited the Guggenheim Sunday afternoon to see the El Greco to Picasso exhibit before it closes on March 24th. What huge crowds! The lighting was wonderful - a combination of light from the skylight in the rotunda and the lights over each painting. I was captivated by the view across the open center and stood along the balcony to sketch the scene. I had to reduce the number of people in my sketch in order to really see the paintings. The half circle in the center of the sketch is an open area overlooking a small adjoining gallery below.
I then quickly visited a few of my favorites in the permanent collection and sketched this small portion of Camille Pissaro's painting Hermitage at La Pointoise. I love rooftop scenes and ! was looking for something to paint using a single color triad: cadmium red, Winsor blue, and Winsor lemon.