London Visit: Part 13 Callum Arrives 6 Weeks Early
I am trying to continue with a daily sketch, even though our days are full - with Henry and Syd at home and Rachel and baby Callum at the hospital. I don't have a scanner and therefore chose to photograph my journal pages. The light, the angle, the shadows are all an issue, but I want to document this wonderful week now rather than waiting until we return to New York after the holidays.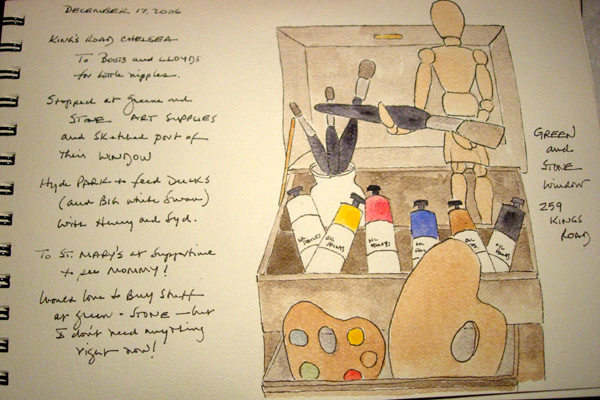 A fun window display at Green and Stone art supplies on Kings Road. I was on a mission to find bottle nipples and couldn't walk by the window without a quick sketch.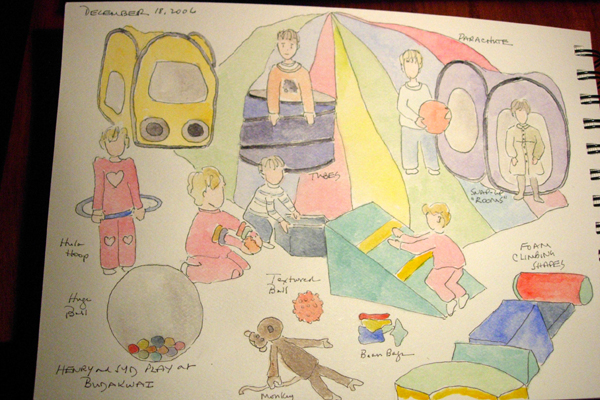 Henry and Syd went to Budakwai for a 75 minute play session on Monday and Thursday morning. I sketched the children while I watched - although I didn't even try faces. The child in pink with a heart on her shirt is Sydney. The boy is orange - with a face - is Henry. He insisted that he needed a mouth!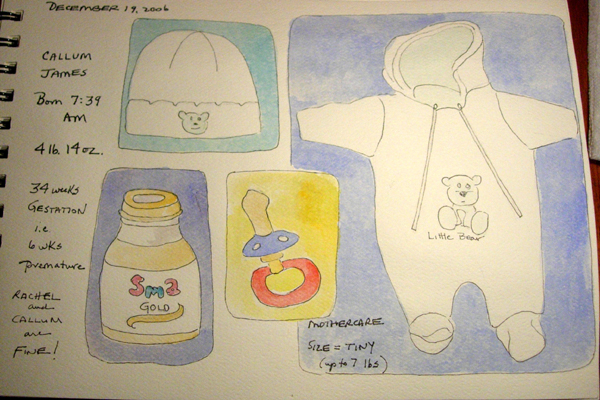 We went shopping for Callum supplies. Mothercare on Oxford St. has the following clothes sizes: Early (up to 5 lbs), Tiny (up to 7 lbs), Newborn (up to 10 lbs). We bought Callum a fluffy white suit and hat to come home from the hospital in Tiny - although he really should be in early!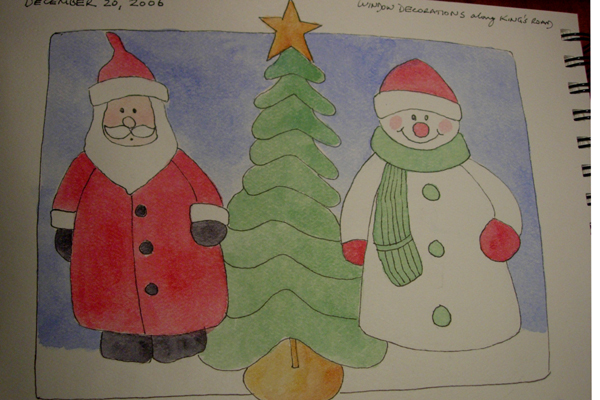 EDM Challenge #98: I saw these Santa and Snowman ceramic figures in the window of Waterstone and the small gold Christmas tree in the window of Pier 1 as I was doing grocery shopping along King's Road. This is a wonderful week for us - especially now that Callum arrived and we know that Rachel will be back home with her family for our Christmas celebration.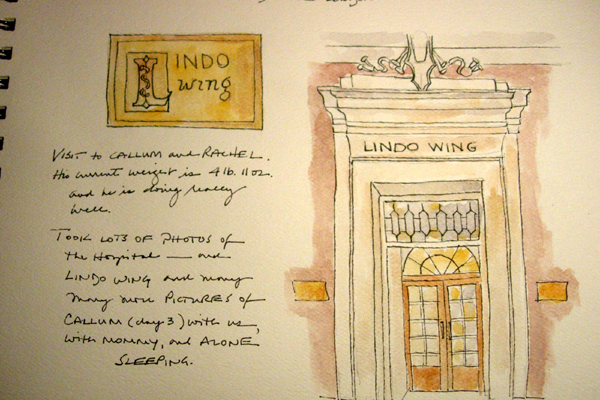 Our last daily visit to St. Mary's Hospital - we just got word that Callum and Rachel are coming home tomorrow! I took lots of photos of the hospital buildings from outside, but chose to sketch the exterior door to the maternity hospital where Rachel had her prenatal visits, hospitalization and delivery this week. I wanted Callum to have photos of his hospital, since Henry and Syd were both born and live in New York City.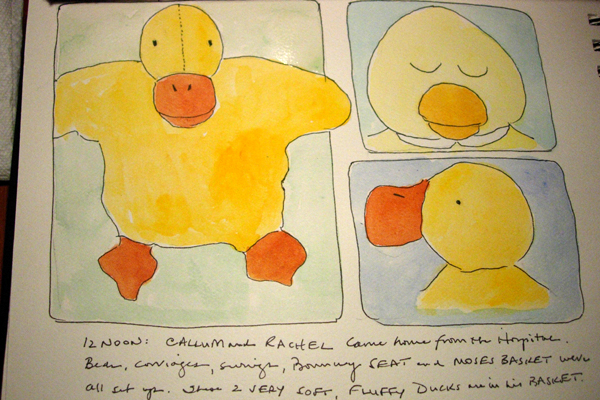 Callum and Rachel came home from the hospital today. He has a really nice Moses basket in the living room and the two soft, furry duck toys were sitting in it waiting for him to arrive. We are so happy! Uncle Jason and Shannon arrive tomorrow for Christmas so we will have our in-house Pediatrician here. Callum is eating well and was 4 lbs 11 oz at discharge!