London Visit - Part 10: Museum Visits Oct 2006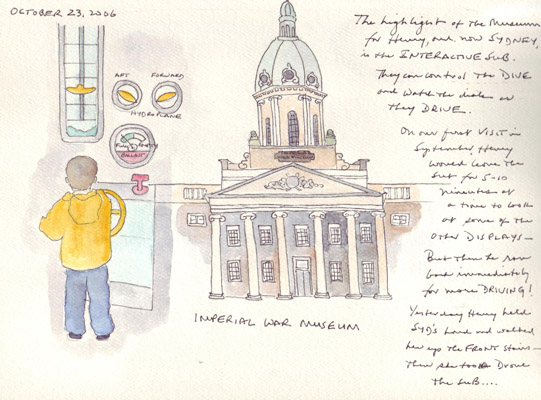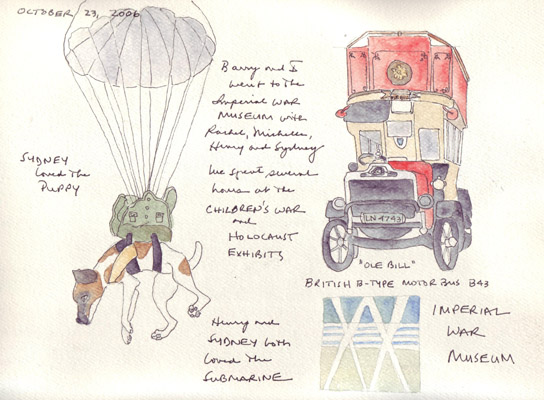 We returned to the Imperial War Museum with our daughter and both of our grandchildren during this visit to London. Our grandson loves the submarine simulation and spends much of his time at the controls. My 22 month old grand daughter loved the puppy that was descending from the roof in a parachute. After they left to return home for naps, my husband and I went through the "Children's War" and "Holocaust" exhibits. Both were excellent and emotionally draining.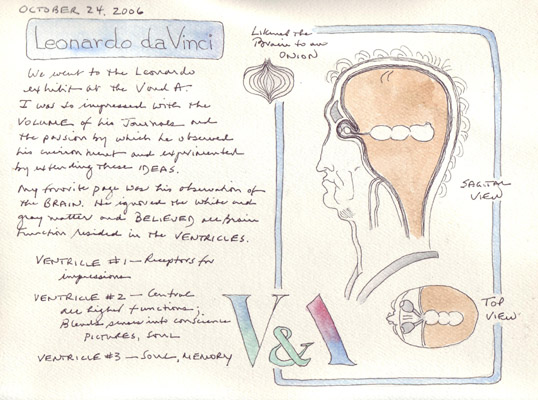 There is an amazing exhibition of Leonardo Da Vinci notebook pages at the Victoria and Albert Museum. I loved seeing his figure drawings, but was especially intrigued by his exploration of the human body. The sketch reproduced above presents his ideas about the brain. He completely ignored the white and gray matter and hypothesized that all human functions were contained in the 3 fluid-filled ventricles: The first was the receptor of all senses, the second blended the senses into consciousness/soul, and the third was the memory. It is unusual for him to be so wrong.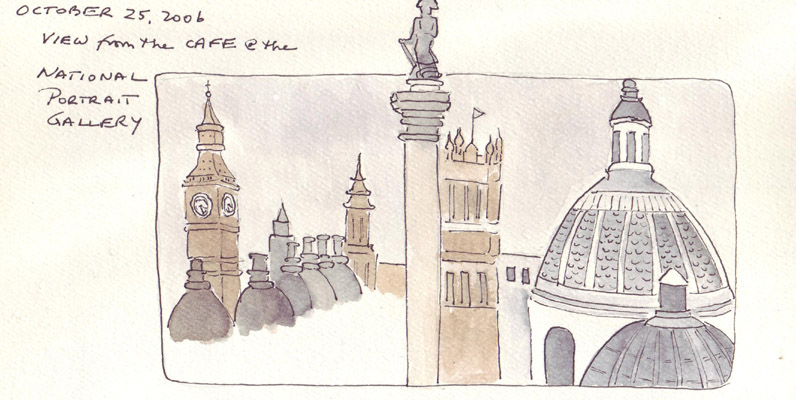 One of my treats this trip was meeting London artist Katherine Tyrrell for an afternoon at the David Hockney Portrait Exhibit at the National Portrait Gallery. I have never been attracted to Hockney's Southern California series, but was overwhelmed during this exhibit by his drawings. It is a large exhibit, but there was still time for Katherine to take me to Tea in the Cafe at the top of the Museum. There we spent time enjoying each other's sketchbooks and had time to talk more. The view from the Cafe is magnificent - and the above quick sketch was taken from a photo that I hastily took before the cafe closed.