EDM Challenge #81: Draw a Streetlight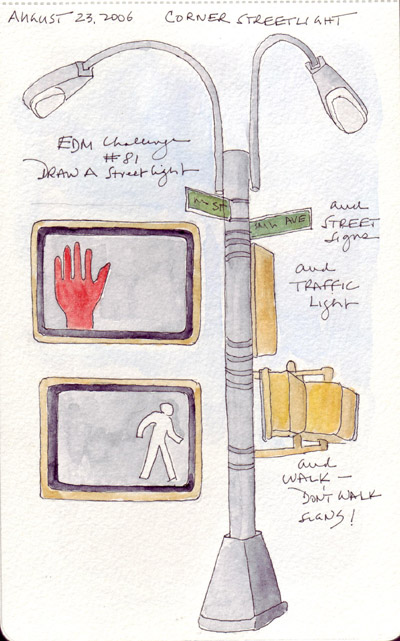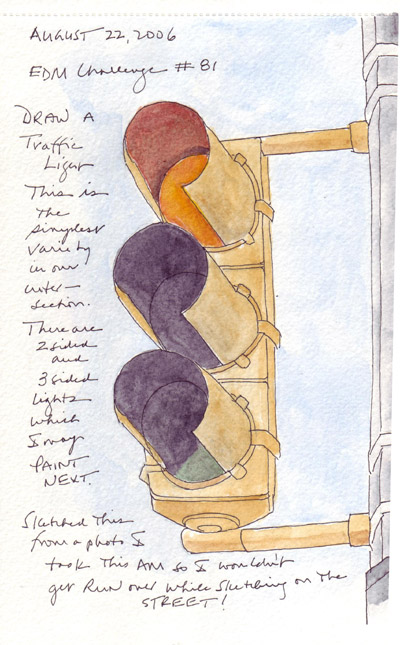 When I first read the EDM chalenge, at 5:30 in the morning, I thought that it said traffic light. So I grabbed my camera when I left for work and took a photo of the traffic light on my corner. I didn't want to get run over as I stood in the intersection sketching and decided a photo would have to be used. After I sketched and painted it, I realized that Karen's email said "streetlight". Since the streetlight is the single pole that holds everything, I sketched it too. The height has been shortened to make the composition more compact. There are endless varieties of street lights in my neighborhood (one light or two) and traffic lights (single and fixed to the pole or double and triple and suspended over the intersection on a long arm that is attached to the street lamp pole). Since this is such a walking city, I also included the Walk - Don't Walk signs that are on the street lamp pole.
Wednesday night I was in mid-town Manhattan and noticed that they have much nicer lights on their poles. Before this challenge, I never realized that there were regional differences in street lights on the main streets in the City!