Wedding Chuppah #1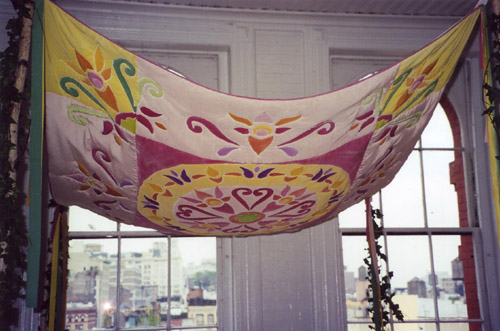 This is the first wedding chuppah that I made (Puck Building, Soho July 1999). While wandering through the Jewish Museum design shop in New York City, right after my daughter was engaged, I saw a painted silk chuppah that could be commisioned by a local artist. At that time I was learning how to use procion MX dyes to "paint silk" using 16 mummi white silk crepe de chine and wax resist. I immediately realized that I could make one if my daughter planned a chuppah for their wedding. These colors were mixed from the 3 primary color dyes to match the flower colors that my daughter selected for her wedding. The streamers at all 4 corners are made from tubes of the same color dyed silk. The piece was quilted using silk thread. The design was created from small bits and pieces from multiple illustrations in a Dover publication.
To see the other two chuppahs that I made for my children's weddings click on "Threads" in the sidebar to the right and bypass all paper entries. Thank goodness I don't have a 4th child! Each one of these took me approximately 6 months to make because I had a full time job and could only devote small blocks of time to the project.
My newest daughter-in-law just made me a large framed photo with each couple standing under their chuppah taking their wedding vows and a beautifully written piece entitled "What is a Chuppah" that she used as a reading at their wedding. It makes me ecstatic to have this composite visual memory of 3 of the happiest days of our lives.