Experimental Screen Printing Class
I am taking an Experimental Screen Painting Class at Fashion Institute of Technology (FIT) this semester, and hopefully will gain an understanding of the many methods for screen printing. I have previously done 2 types of screen prints, and those two prints are at the end of this blog post.
We made a 4 Color Reduction Print over the first two weeks. I had no idea what they even meant 2 weeks ago! Read here for method: The white shapes on my screen print are the color of the fabric, and I brushed screen filler over every place that you see white to "protect it", and then pulled a print with light blue pigment. The light blue color is #1. Going forward, I brushed on "screen filler" to delineate the areas that I wanted to remain light blue, and then pulled a print with darker blue. This process, i.e. screen filler to delineate areas you want to save, and then pulling a print with darker colors (#3 dark purplish blue and then #4 black). It made my brain hurt trying to figure out the process. Before adding the black pigment, every part of my screen except for the black areas at the bottom of the screen were brushed with screen filler to maintain the printing I wanted to save. To pull a print, pudding-like pigments are put along the top edge of the screen and a squeegee is used to pull the paint down over the screen in one slow, consistent movement.
My Print on Fabric: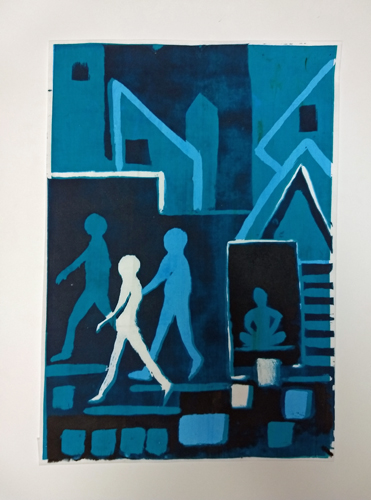 My only other experiences with screen printing were one day workshops printing on fabric with fabric paints.
One color Screen print with mask - a Christmas Tree Decoration:
In the first photo, I made multiple prints of the green tree on a big piece of red fabric using a contact paper "mask "over the screen (with the green sections cut out), only allowing me to print the areas that are green as the print was pulled. The gold color is machine quilting with metallic gold thread.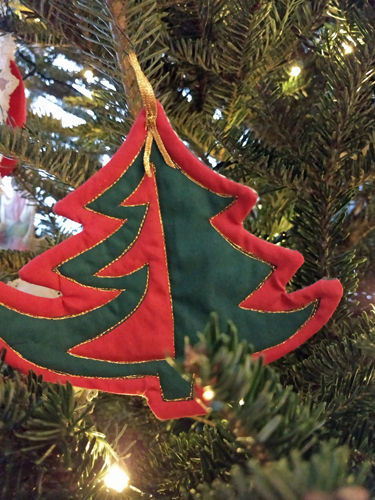 Thermofax Screen Print with several colors of thickened Procion MX Dye - A Quilt Journal Page:
I don't understand how thermofax screens are made, but essentially a stencil is burned into a screen using a Thermofax photocopying machine and special paper. I brought black and white ink jet prints to the workshop and the screens were made for me during the workshop. They are more like stencils with multiple areas on the screen that let paint through. On this 8.5 X 11" quilt journal page, I used several different screens, and colors of thickened dyes for this tiny art quilt.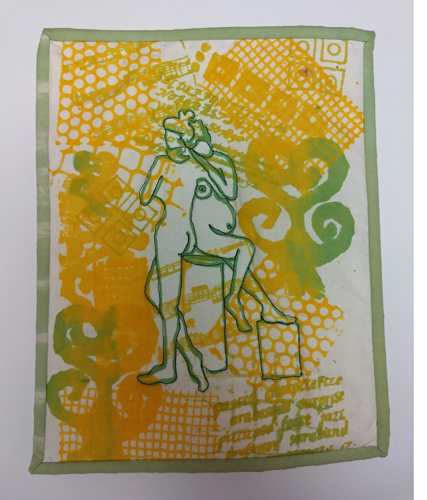 Stay Tuned: Next we are making photoemulsion screens and it is all still a mystery to me.