Covid-19 Omicron Infections Study by Age
The CDC recently reported results of a "seroprevalence study" of Covid-19 infections, by age group, during the period September 2021 through February 2022. (MMWR Morb Mortal Wkly Rep 2022;71:606-608) It is very difficult to get an accurate picture of the number of Covid infections in the country. But Scientists can measure antibodies that are directed to the NUCLEOCAPSID part of the SARS-CoV-2 virus, and not the spike protein. These NUCLEOCAPSID antibodies are generated by infection, NOT vaccination. Samples were collected from people in all 50 states, DC, and Puerto Rico. Samples were collected every 4 weeks, except February when they were collected every 2 weeks. The median number of samples was 73,869 except for Feb when it was 45,810. Seroprevalence (i.e. the number of people who were positive for nucleocapsid antibodies due to covid infection) was assessed every 4 weeks and by age group. *see definitions below.
RESULTS: Sept-Dec 2021: overall seroprevalence increased by 0.9-1.9% every 4 weeks.
RESULTS: Dec-Feb 3022: overall seroprevalence increased from 33.5% to 57.7%
Ages 0-11: increased from 42.8 to 75.2% 5-11 years: Fully Vaccinated 28%
Ages 12-17: increased from 45.6 to 74.2% Fully Vaccinated 59%
Ages 18-49: increased from 36.5 to 63.7% Fully Vaccinated 69%
Ages 50-64: increased from 28.8 to 49.8% Fully Vaccinated 80%
Ages >65 years: increased from 19.1% to 33.2% Fully Vaccinated 90% See Below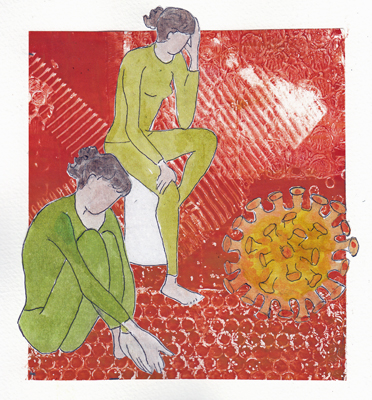 As of Feb 2022 approximately 75% of children and adolescents had serologic evidence of a previous Covid-19 infection. One-third of these children became newly positive since Dec 2021 when Omicron was surging. The greatest increase in seroprevalence during Sept 2021-Feb 2022 occurred in the age groups with the lowest vaccination coverage.
DEFINITIONS: Seroprevalence: The percent of the nucleocapsid antibody detected in a batch of SERUM samples from patients.
Serum: The liquid part of a blood sample after the blood has clotted in a test tube and the cells and clot have been removed. Serum is pale yellow.