Isolation vs Quarantine
The CDC has revised guidelines for Isolation and Quarantine in the face of the surge of omicron Covid infections throughout the country.
You ISOLATE when you are sick and have been infected by the virus.
You QUARANTINE when you may have been exposed to the virus and may or may not have been infected even if you do not have symptoms.
CDC Guidelines for ISOLATION: Stay home and isolate from people for at least 5 days. The day you developed symptoms is day 0. Wear a well fitting mask around others at home and in public on days 6-10 if you are afebrile and have decreasing or no symptoms. You can take a rapid test at that time, but it is not required. In a British study 31% of patients still had a positive test on Day 5, and 1% on Day 10, but rapid tests are not reliable for determining when an individual is no longer contagious.. .
CDC Guidelines for QUARANTINE:
If you come into contact with someone with COVID-19, and you are fully vaccinated AND boosted, you don't have to quarantine.
If you are vaccinated, but not boosted, or you have not been vaccinated, you should quarantine for 5 days, followed by strict mask use for 5 more days. The incubation period for the virus is usually 3-5 days, but may be as long as 10 days. See Below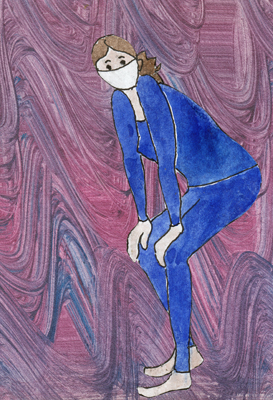 When I was a child I distinctly remember having measles and chickenpox - one year APART. My doctor came to our house to make the diagnosis and then put a big sign on our front door that the house was in QUARANTINE - by an old public health definition. After I was no longer febrile and symptomatic, my mother and I went to the Department of Health and turned in the Quarantine sign. Both of those highly infectious viruses are now controlled by vaccines that children get early in life. Please vaccinate your children and grandchildren against COVID-19. More children are getting Covid and more are hospitalized.