CDC Mask Recommendations and a Few Tests of Protection
Mask Confusion? The CDC issued new mask recommendations this week, in part due to the rapid spread of the UK variant in the US. We know that this variant is very transmissible, and it is already spreading quickly and could be a big surge in the next 4-6 weeks. Masks are not being worn, or worn properly (not covering nose or pulled down below the chin,) ,or not fitting properly. Results from a study in which 10 states were surveyed before and after a mask mandate was put into effect, demonstrated a significant decrease in the infection rate. In order to avoid the spread of the UK variant B.1.1.7, the CDC is now recommending wearing double masks to further decrease exposure.
N95 masks are still in short supply and should be reserved for health care workers. Surgical masks rarely fit properly and there are air leaks because of gaps on the sides, or because the metal strip across the bridge of the nose is not shaped to prevent leaks. Cloth masks that fit tightly, worn over the surgical mask reduce transmission and improve fit. More below.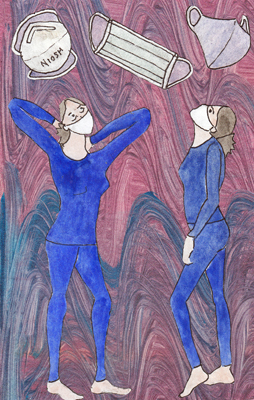 You should not be able to see light through cloth masks. To test transmission through the mask you can try to blow out a candle. You should not be able to do this. To test air leaks around the nose look for steaming of a pair of glasses. If you see any, your mask doesn't fit properly around your nose. You can also expire forcefully in front of a mirror and see if you blink. If you do, you have an air leak.
Masks that have an elastic that goes around your neck and another around your head (like the N95 masks) fit better than those with ear loops. I regularly see people who are wearing butterfly masks (far right in the collage above) and they are pulling their mask back up over their nose every few minutes while they are talking. And unfortunately tightening the ear loops just increases ear pain.