Listening to Dr. Fauci
I listened to an interview with Dr. Fauci and David Ignatius of the Washington Post yesterday and wanted to share some of the discussion.
1. Virus mutations will occur unless we stop replication. The more cases we have the faster the viruses will mutate. Many of the mutations do not change the virus behavior, others do causing: increased transmission of disease, more serious infection, and/or a change in the response of the virus to vaccines or monoclonal antibody treatments. Right now the virus, which is out of control, will accumulate more mutations and we need increased genomic testing for surveillance and preparations to upgrade the vaccines. We have the scientific skills to modify the vaccines and need to stay ahead of the changes. The current goal is to push ahead with vaccinations as quickly as possible.
2. The CDC is trying to study masks in order to determine the best way to prevent transmission, but won't have any new recommendations until they have the science to back them up. Until then Dr. Fauci says if one mask is good, two are probably better (double masking). It can't hurt and might help. Read Below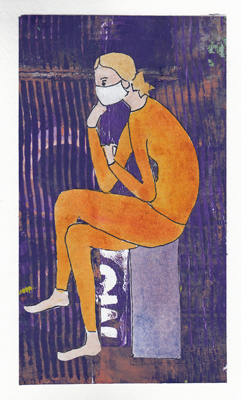 3. The US gets an A+++ for vaccine development, but now needs to concentrate on distribution. In order to beat the virus, we need to vaccinate as quickly as we can. The federal government is working on the supply chain and developing outreach programs in communities to get the available vaccines equitably "into arms" as quickly as possible. They are also developing many programs to combat vaccine hesitancy because our control of the virus will depend on having 70-85% of the population vaccinated to reach herd immunity, which is the only way we can return to our prepandemic lives. Everyone needs to be patient....