The Moderna Vaccine Application for EUA
The Moderna Vaccine, developed by the Massachusetts Company in collaboration with Dr. Fauci's Institute at NIH, was approved by the FDA last evening.
On Thursday I watched the FDA Vaccine Related Biologics Products Advisory Committee Meeting, during which 21 independent scientific committee members heard 2 presentations: (1) by Moderna with detailed information from their Phase 3 Clinical Trial (30,420 volunteers) and (2) the FDA who presented their summary by the more than 100 FDA Career Scientists' of the Moderna Trial data. In order to approve a product with an Emergency Use Authorization (EUA) there needs to be a catastrophic public health emergency, and no licensed product to treat people. The drug companies need to submit an enormous amount of data from their phase 3 clinical trials and after scientific review by independent committees and the FDA, approval can be granted if the benefits outweigh the risks. The committee voted 20 to 0 to recommend an emergency use authorization (EUA), and the FDA usually follows their guidance. There are many studies yet to be done to examine the immune response and duration, and virus transmission in infected subjects. The FDA EUA was granted and the vaccine will be shipped. See Below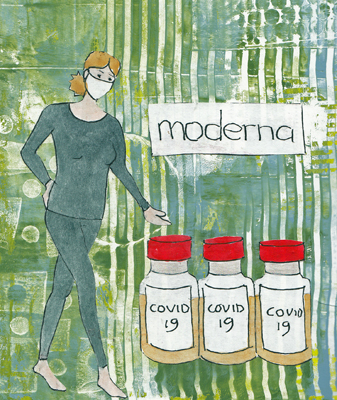 The Moderna efficacy in preventing symptomatic Covid-19 was 94% for different age, ethnic, and racial groups. The vaccine also prevented severe covid-19 with 0 cases in the vaccine group and 30 in the placebo group. At least 50% of the enrolled volunteers were followed for more than 2 months and the side effects were almost all mild to moderate - with fever, pain, swelling, and redness at the injection site, headache, chills, fatigue, muscle and joint aches following the vaccination. Patients should be aware of these symptoms. Some of the same symptoms occurred in the placebo group at a lower incidence - which always surprises me! Symptoms increased after the second dose but were gone after several days. There were 4 cases of Bell's palsy, in which the facial nerve, on one side of the face, is affected, but recovers slowly. There was one case in the placebo group and 3 in the vaccinated group. The incidence will be followed closely to see if turns out to be more frequent than the spontaneous incidence in the general population. There were no allergy symptoms or anaphylaxis seen. The vaccine needs to be stored at only -4 degrees C.and can be maintained in the refrigerator for 30 days - making it easier to transport and store.