Sars-CoV-2 Vaccine Update
There are 5 Covid-19 Vaccines in Phase 3 Clinical Trials. Two of them may apply for an Emergency Use Authorization (EUA) within the next one or two months. Moderna has completed enrollment of 30,000 volunteers - half in the placebo and half in the treatment group. They slowed their enrollment briefly several months ago in order to enroll more persons of color, patients 65+, and volunteers with comorbidities. Pfizer has enrolled 42,000 out of their goal of 44,000 and they have added a group of volunteers between 12 and 18 years old. Each company has an independent Data Safety Monitoring Board, scientists who will analyze the data when a target number of volunteers have developed Covid-19.
The Board will initially review the data without knowing who received the vaccine and who received placebo. Then hey must be able to demonstrate at least 50% efficacy when comparing Covid-19 cases in the vaccine and placebo groups, and no serious side effects. In order to evaluate safety both companies must wait for two months after at least half of the volunteers have received both vaccine doses before applying for approval from the FDA. Continue Below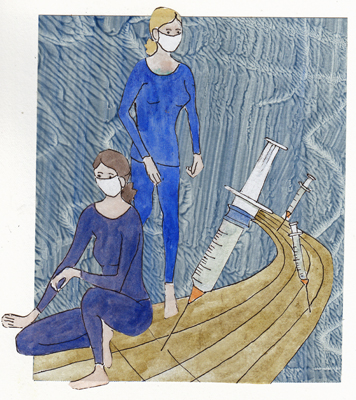 They can then apply to the FDA for an Emergency Use Authorization or a Biologic License Approval. EUA are usually reserved for instances in which there is proven efficacy and minimal adverse effects and the benefits must outweigh the risks. However when EUAs are granted, there is a substantial chance that the the clinical trial will not continue for the full 24 months of followup. There was discussion at the FDA meeting that the company might want to vaccinate the placebo group right away, thereby ending the Randomized Placebo-Controlled trial that would provide definitive data for efficacy and long term safety.
The public rarely knows as much about the development of a vaccines - the fastest vaccine took 4 years to make, test, and distribute. But we all want very effective and safe vaccines, and the companies are not willing to rush through the requirements. A Biologic License Approval takes longer to assess and approve and with the current surge in cases many more people would die. Difficult decisions must be made.