Sketching on My Daily Walks
During my years in Medicine I was exposed to many contagious diseases, and was a young faculty member when we started to recognize HIV infections and develop appropriate methods for safely drawing blood and doing bone marrow aspirates and biopsies. But epidemics of newly emerging respiratory viruses and ebola were limited mostly to other continents. That will not be the case now, and living in densely populated NYC means increased exposure, and morbidity, with the coronavirus once you are in the vulnerable age range. The first case in NYC (traveler from Iran) was announced on Sunday, and the second patient (with no obvious source and exposure to many people) was announced yesterday. My husband and I have the luxury of staying home now, with daily walks in the neighborhood, and I take my sketchbook with me for a really quick sketch each day. I also have a big pile of used books to read to keep me happy!
I was walking along a quiet side street on Monday when I suddenly saw a townhouse already decorated for St. Patrick's Day. The leprechaun wasn't the only decoration, but it was the largest. I used to wear green every St Patrick's Day to honor my Irish Grandfather. Then I did extensive family research 2 decades ago only to discover that his entire family came from County Armagh in Northern Ireland in the 1880s. Orange should be my color.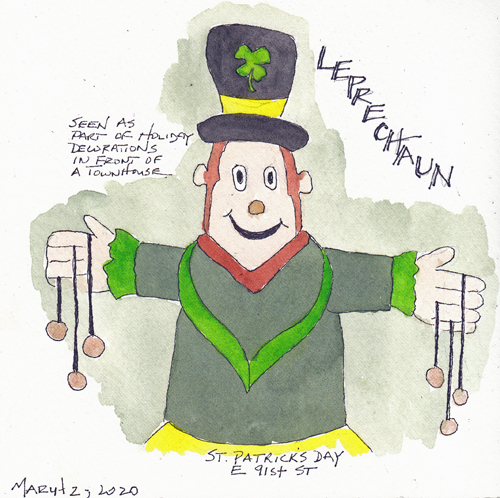 I'll try to continue my walks and sketching, weather permitting, with an added benefit of exercising my back.