My Reading Winter
January and February have been reading months for me - first bronchitis with horrible coughing leading to a back problem which is slowly getting better. But although I haven't been completely house bound, my flexibility is still reduced and I'm enjoying this reading break sooo much. For more than a year I've been supplementing regular book purchases with $2 used books from a twice monthly Book Fair at one of the NYPL branches. This was the perfect time to dig into my stash of unread books, fiction, non-fiction, and mysteries as a separate genre. It was a perfect way to spend these winter months - resting on a heating pad and slowly allowing my back to heal. Yesterday I decided to collect the books I've read so far, and take a photo (fiction and non-fiction left; mysteries right).
Although I've been doing some drawing, I still need to paint sketchbook pages done in 2 museum exhibits. Instead I'm giving into my desire to just read, and selecting books I may not have otherwise read (Anthony Trollope). I'll try anything for $2 and can always redonate the book.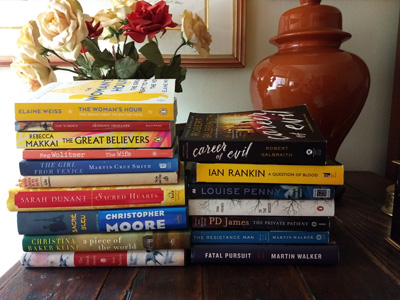 To artists who follow my blog, I'd recommend A Piece of the World by Christina Baker Kline - which is about Christina Olson from the painting Christina's World and artist Andrew Wyeth. I also enjoyed Sacre Bleu by Christopher Moore, even though it was a little weird. It is about the Impressionists and the setting is Montmartre. There are gorgeous color images on the pages scattered throughout the book and an amazing cover.