NYC Urban Sketchers July 15, 2019
The NYC Urban Sketchers spent Saturday in Greenwich Village - first on W10th St and then in Washington Square Park. It was a gorgeous day, and we were spread out down W10th from the Church on the corner of 5th Ave all the way to 6th Ave.
The Tower of the Church of the Ascension: This was our meeting place at 10 AM and it was a perfect spot to start sketching.
The Emma Lazarus House at 18 W10th St. Emma lived here with her family in the mid-19th C and is known for her poem "The New Colossus," words of which were eventually added in bronze to the base of the Statue of Liberty. ""Give me your tired, your poor, Your huddled masses yearning to breathe free...."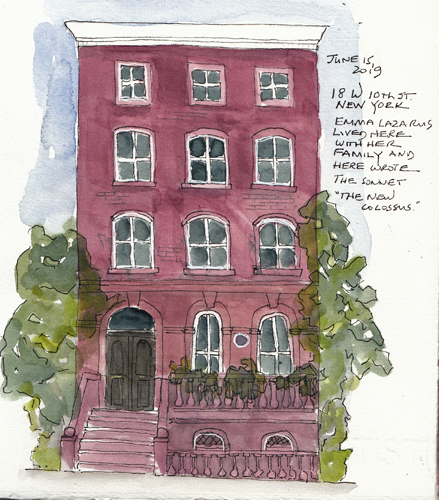 Jazz Trio in Washington Square Park: The Park was full, but we chose a seat where we could draw/paint and listen to wonderful jazz.