Single Signature Pamphlet Book in Boards
I love this book structure, and my student and I each made one this month. You are limited by the number of folios you can put in a single signature. Hers had 10 folios of a drawing paper. Mine had 4 folios of a Fabriano Artistico watercolor paper. Instead of tipping on end papers to the front and back of the page block, you fold both of them around the spine of the signature, along with a piece of bookcloth (2-4" wide piece of bookcloth as hinge) and stitch them all together in a 5 hole pamphlet stitch. There are a few other small changes, but it is easy to learn and great for a small project of gifts. I made my "bookcloth" with a piece of fabric I hand dyed and fused to a piece of Kozo paper.
Front: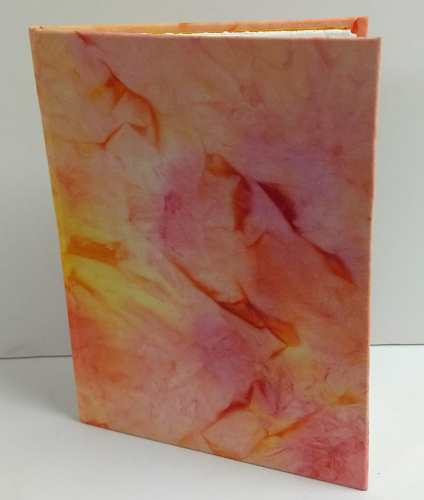 Full Cover: demonstrating the gap between the front and back boards which allows the book to open flat.