Screen Printing Project 3
Screen Print on Fabric: For the 3rd of our projects this semester, we had to create two "positive" images, and burn them into screens, registered, and make 2-color prints on fabric. Registered means that you can easily place the print from one screen exactly on top of the print from the other screen. I had the fashion model with the horizontal stripes on one screen and all of the calligraphy/typography on the other screen. The first screen was printed in black (figure) and the second one in charcoal gray (typography). The print measures 15 X 19" The background fabric is white.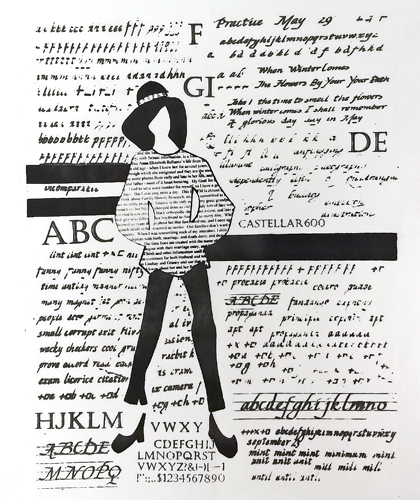 Original Art Inspiration: I sketched a live model in a Fashion Illustration course last year and then collaged over the drawing.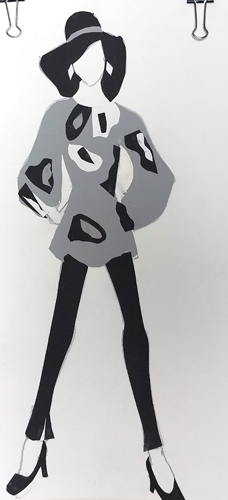 Creating the designs for the Screens: The positive images for the screen #1 were created by collaging black paper and typed words, that were printed on a transparency, to create the blouse. All the pieces were taped to heavy vellum to photograph (burn) them onto a photoemulsion screen. The calligraphy for screen #2 was printed on transparency sheets and cut out and taped to a second piece of vellum to make the other screen. Here are the two sheets of vellum clipped together for me to test the image.