Experimental Screen Printing - Project 3
These are the designs for my next two silk screens at my Fashion Institute of Technology (FIT) Experimental Screen Printing class. For Project 3, we needed to prepare designs for two screens, one with a design/drawing and the other with only typography. When the screens are printed, the images will need to be accurately placed (registered), so the designs are printed perfectly together. This image is a composite: I layered my two designs, each taped to a piece of vellum, clipped them together, and then took the photo as a reference.
One layer has my figure and the 3 black stripes. The other layer has my calligraphy printed on acetate, cut into pieces, and taped to the vellum with clear tape. I just wanted to see the superimposed images before going to class tonight to make the actual silk screens.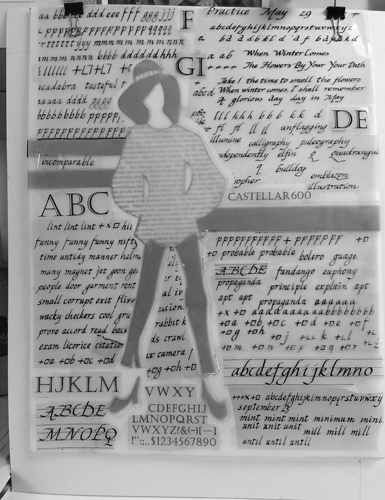 The image on the right is the original figure, created last year as a collage. I sketched a fashion model and then cut out black and gray paper to collage on my drawing from that fashion illustration class. This weekend I traced the collage, made patterns for the pieces, and cut the parts out of black paper and a sheet of text from a word processor that was printed on acetate for the blouse.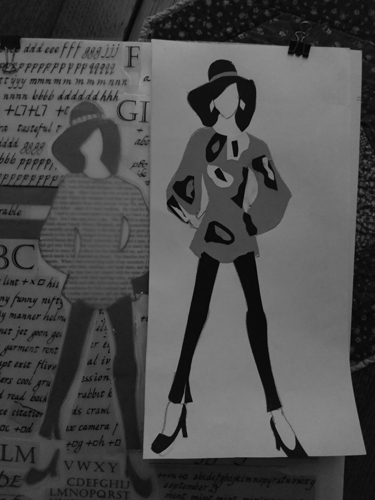 It will take most of my 4 hour class tonight to learn how to register my two designs, and then register them, coat my screens with photoemulsion liquid, dry them for 30 minutes, transfer my designs to the screens in the exposure unit, wash them thoroughly, dry them for 20 minutes, and then tape the screens for printing. I wrote this just so I can remember!!
My classmates, who are taking the course for credit, need to turn in 3 registered prints in 2 weeks.