Making a Coptic Watercolor Sketchbook
My major reason for making books is to have a watercolor sketchbook that meets my needs, and isn't expensive to make. I make cased in books with dyed fabric covers for my standard watercolor sketchbooks, but this month my bookbinding student and I made Coptic books. They also open flat.
I made this book with a single sheet of Fabriano Artistico 140 lb soft press paper (3 signatures with 2 folios for a total of 24 pages) and a paste paper cover. It is approx. 7.5 inches square and watercolor can be used on the front and back of each page. The paste paper was made with a corn starch recipe and inexpensive acrylic paint. The end paper is a piece of decorative paper in a similar color. The stitching was done with 3 ply linen thread.
Coptic Book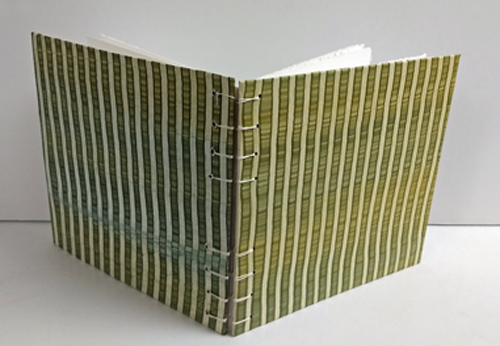 I chose this stitching method because there are two loops of thread through each cover hole, and the last signature and the front cover are sewn on separately.
Inside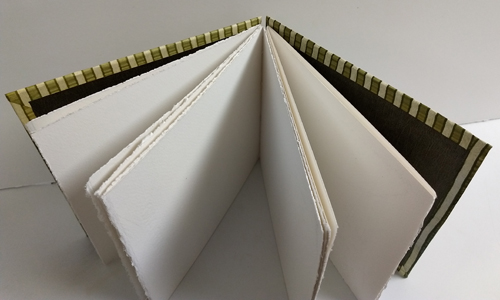 End Paper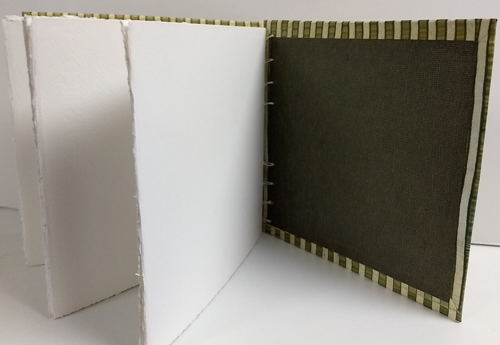 We used a large awl to make the holes and it was hard to punch through the cover binder boards. I'd love to know how easy it is to punch holes into Lineco 0.067 binders board with a Japanese screw punch - and what size punch is best. This is only my 4th Coptic book in 5 years, so I haven't invested in one.