Urban Sketchers Attend German Baroque Concert
NYC Urban Sketchers met at Holy Trinity Lutheran Church for a Juilliard Historical Presentation. I first learned about this free concert through Urban Sketchers and now attend the performances (2 per semester) whenever possible. These free concerts are at the church and the Juilliard masters degree students play baroque music on wonderful instruments.
The students come out in small groups, each group for one piece of music, so I needed to sketch quickly and combine musicians or instruments in one drawing.
This violinist was the first musician I sketched, but details were added during other performances.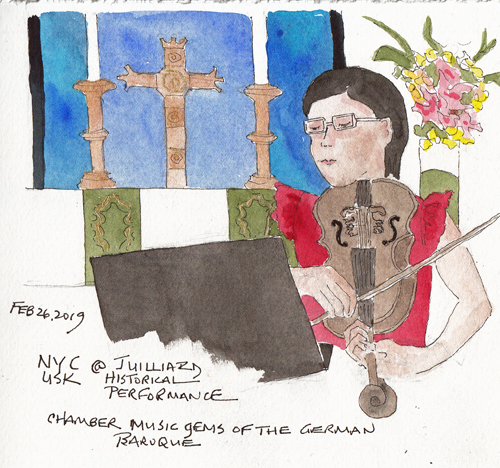 I love the theorbo, which I learned about at my first concert with this group. It is really big, and has two sets of strings. According to my reading, it is a member of the lute family, and it is in many paintings from the time period.