Threads, Not Paper, This Week
I have multiple creative passions and I decided that this month I was going to enjoy sewing things that were on my "To Do List" for too long. I still did quick daily drawings after breakfast, but when I came home from my morning volunteer sessions, I dedicated myself to my sewing machine.
Sewing was my first real passion and I made clothes for myself and my children, with household and gift items beginning in my high school days. In 1980 I started quilting and fell in love with hand stitching patchwork, applique, and the final quilting. After many hours at work, I loved the slow pace of stitching in the evenings. I even carried around a small plastic bag with fabric pieces, needle, thread and scissors and made a lap size scrap quilt for myself while watching my childrens' competitive swim practices. This is my favorite of many quilts because of the hours spent hand quilting it, and my husband insisted that we hang it in our apartment. I have a "Threads" category on my blog for the occasional textile entries.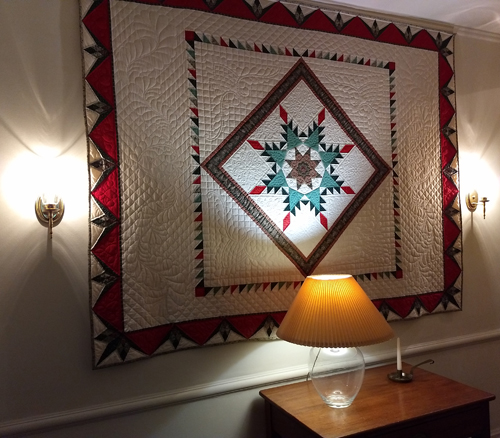 So far this week I made 5 pillows. The middle one was made from a piece of Mario Fortuny fabric purchased in Venice during our 50th wedding anniversary visit there. Twenty five years earlier I bought another Fortuny fabric in Venice and wanted another pillow to remember our visits.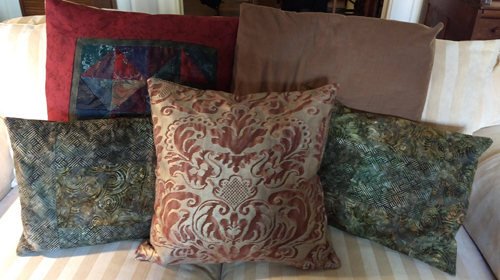 I also finally made a quilted piece for our dining room table with 3 small pieces of aboriginal fabric that my friend Bunny brought back for us from her trip to Australia and New Zealand. I loved how they looked cut and reassembled, and just did simple machine quilting on the seamlines.