Sketchbook Skool WHIMSICAL Weeks 4 and 5
Miriam Bos is an illustrator and her paintings are used for books, magazines, fabric, ceramics, and greeting cards, etc. It was fun learning about her creative process, and for our homework we were asked to create a book character and draw at least 3 emotions.
I have fun watching squirrels trying to sneak the seeds from the bird feeders at our friends' home in Martha's Vineyard. There were two who climbed the nearby tree, took flying leaps to the conical top of the iron pole holding multiple bird feeders, and almost never were successful. I called a squirrel with an orange tail "Spas" because he would try to climb down the pole, lose his footing, scramble trying to hold on, and then fall to the ground.
What I Learned About Character Development in WHIMSICAL: In Miriam's demo video she showed us her method for creating characters. She obtains photo images of real animals from the internet, and then traces them to start the process. After she learns about their structure and characteristics from tracing, she sets them aside and begins to draw many versions of the animals in different poses, and with different emotions. She, like several of the other illustrators, said that they draw many before they find the character they like. Mike Lowery said he drew almost a hundred before he found the "Carl the Duck" character he wanted.
I started with tracings, and then drew at least 20 before I found these characters. I had to paint one with an orange tail to remind me of the spastic squirrel I loved at the bird feeder.
Vanessa Brantley-Newton is an illustrator of Children's Books, and her homework for us was to create a collage inspired by one of 3 words: Joyous, Dangerous, and Ridiculous.
For my collage I decided to go back to the first moment that my characters Axel and Alice saw the characters in the hooded long coat. The title of this collage is DANGEROUS?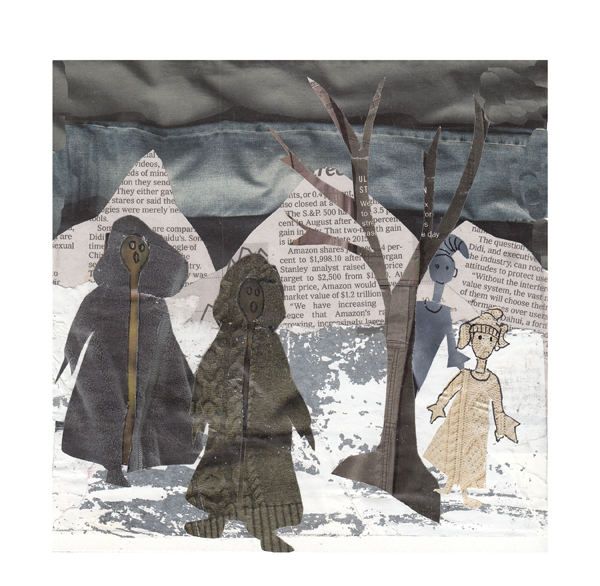 Axel was created during a Sketchbook Skool homework assignment by Fabio Consoli. We had to intereract and draw with a child, and I created Axel, and then later Alice. The top painting is the original homework painting. The character on the right was created by my Grandson Zach, and then I reacted to the robot creating the rest of the painting. The bottom watercolor was done as a final project for a watercolor illustration class at FIT.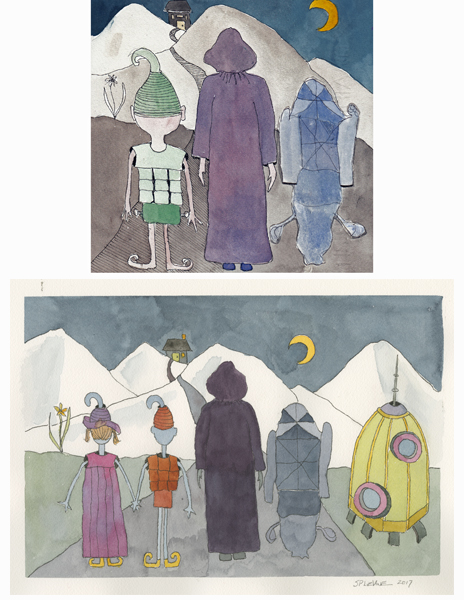 If I hadn't fractured my wrist on my dominant hand in March, I would have finished the comic book project about Axel and Alice for my FIT Spring semester class on Comic Book Illustration. Someday....