WWI: Beyond the Trenches
Last week I visited the another WWI Art exhibit (through Sept 3, 2017) It is 100 years since the beginning of WWI, and the first art exhibit I saw was at the National Air and Space Museum in DC. That exhibit focused on artists who were selected and embedded with the troops, and the sculptors who made bas relief sculptures in the stone chambers they lived in underground.
http://www.paperandthreads.com/2017/04/_while_in_dc_my.php
In the exhibit at the NY Historical Society, many artists' paintings and sculptures were exhibited, including a very large mural by John Singer Sargent and two sculptures by Gertrude Vanderbilt Whitney. I knew that she was the patron who started the Whitney Museum with her art collection, but I didn't know that she was a sculptor and when traveling the battlefields of WWI set up field hospitals for the soldiers.
I copied a detail from a painting by Claggett Wilson (Front Line Stuff 1919). He was in the Marine Corps and fought at Chateau-Thierry and Belleau Wood where he suffered the effects of poison gas. At a hospital in Dijon and later in the Army of German Occupation, he recorded his experiences in watercolor and then went on to become an art teacher at Columbia University in NYC. This is from one of his many paintings in the exhibit.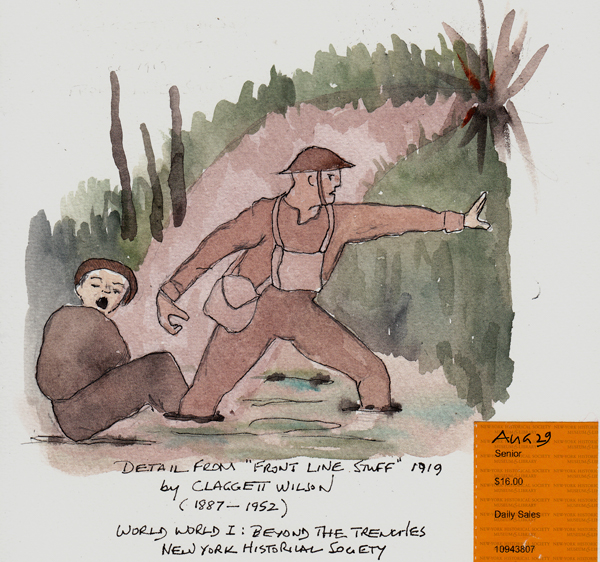 The Met currently has an exhibit entitled WWI and the Visual Arts (through Jan 7, 2018) and the Museum of the City of New York has an ongoing exhibit entitles Posters and Patriotism: Selling WWI in New York. They are on my "to see" list.