Picabia and Calder and Faces
I saw two art exhibits that inspired me to draw more faces. There is a huge retrospective exhibit on Francis Picabia at the Museum of Modern Art: Our Heads Are Round So Our Thoughts Can Change Direction. I learned that he was from a very wealthy family and rarely stayed with one specific type of art - making it more difficult to be well known in the art world.
This is a wall photo of Francis Picabia at the entrance to the exhibit, playfully sitting on a child's toy.
Link to Museum Website: https://www.moma.org/calendar/exhibitions/1670?locale=en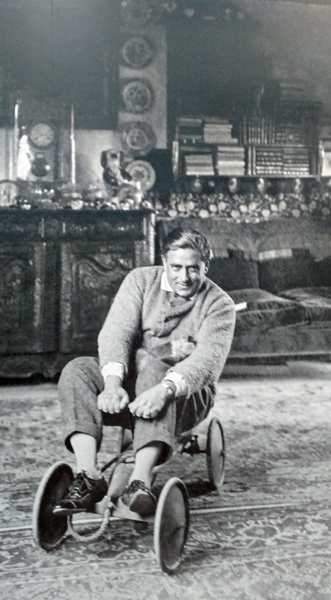 I was immediately attracted to the set of paintings that he called "Transparencies." He appropriated existing art for the layers in these large paintings - incorporating images from mythology, religion, and even other artists. It is hard to imagine how he created the layers in oil paint. In Salome, the painting below, it is speculated that there is the body of a contemporary nude dancer, a Boticelli head, John the Baptist's head on a platter, and figures, columns, and ceramics from the Greeks.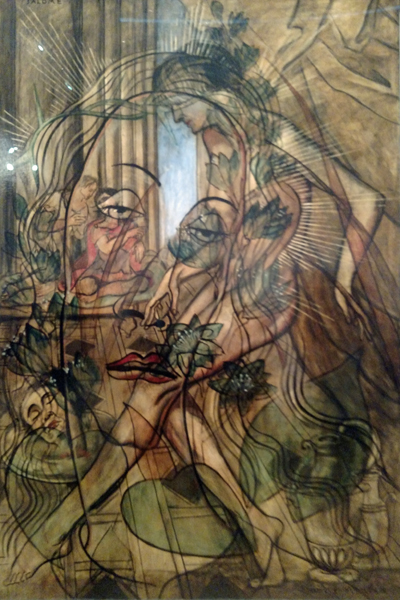 I walked through the Gallery of "Transparencies" and sketched various faces, and then added the black head from one of the paintings that I think was part of his "Monster" series.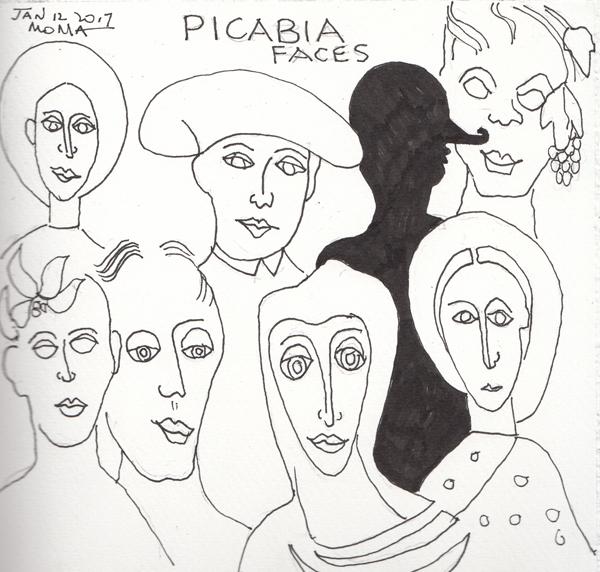 Several days later, we joined friends at the Whitney Museum. This is the best photo I was able to take of the architecture of the new building. It was a cold, windy day, so I'm surprised to see any people out on the balconies.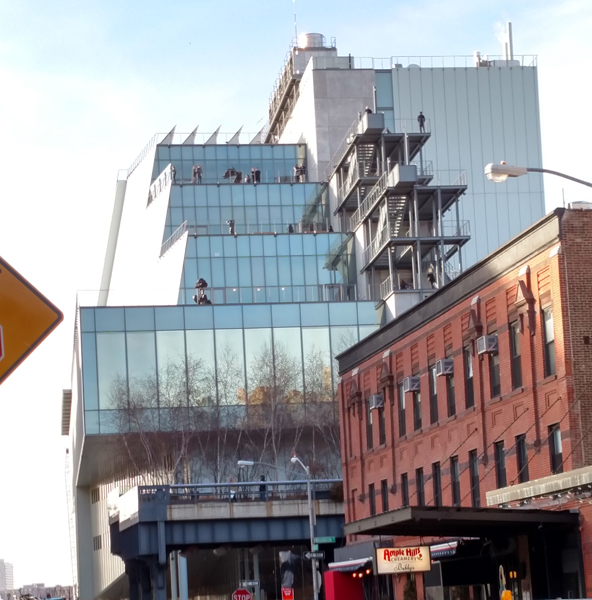 The main exhibit was "Portraits" from their collection.
http://whitney.org/Exhibitions/HumanInterest
I loved it because there was a very loose definition of portraits - and many were collections of symbols or favorite things of the artist.
As soon as I saw the Calder wire head of Varese, I knew that I had to draw it from the front and side.