Battery Park City and Riverside Drive NYC
Wednesday and Thursday were terrific art days this week. I went to Battery Park City Wagner Park for part of the morning session on Wednesday, and painted yet another view of Pier A. I love the building and really enjoy the challenge because of the multiple perspectives.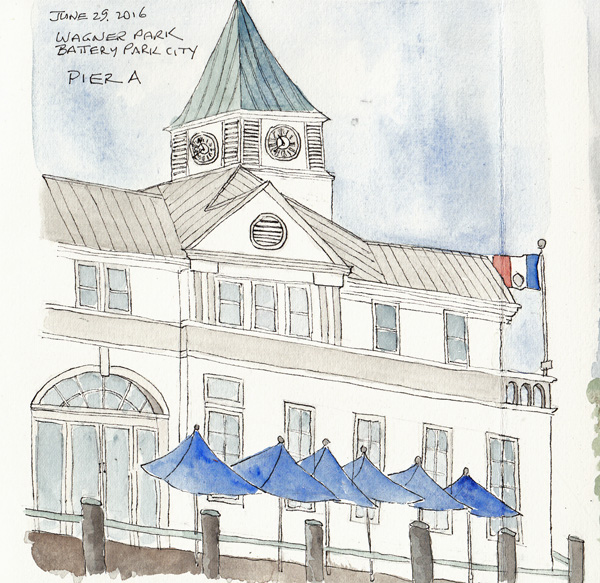 In the afternoon I joined friends for figure drawing in South Cove - another one of the Park's art activities. I haven't photographed the sketches yet.
Yesterday I joined a small group from the Weekday Urban Sketchers group - first at Riverside Drive and 93rd Street, and then further south at Riverside Drive and 89th Street. There was shade and a wall or benches at both locations, and a breeze off the Hudson River. We had a delightful time drawing and talking at both locations.
Joan of Arc: Riverside Drive at 93rd. This is one of only 5 statues commemorating women in all of NYC.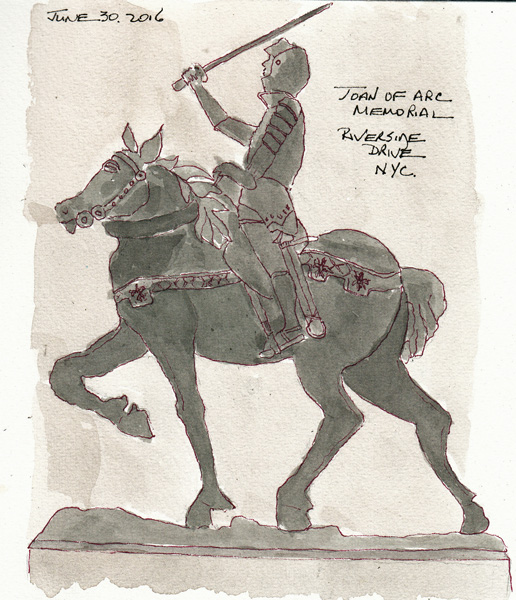 Soldier and Sailors Memorial: Riverside and 89th St. My daughter owned an apartment overlooking the Memorial, and now my son owns it. I've had experience drawing the top of the Memorial from their window while my grandchildren were taking naps. My first drawing was in January 2006, almost when I started drawing and painting regularly. And it was the same month I started my blog.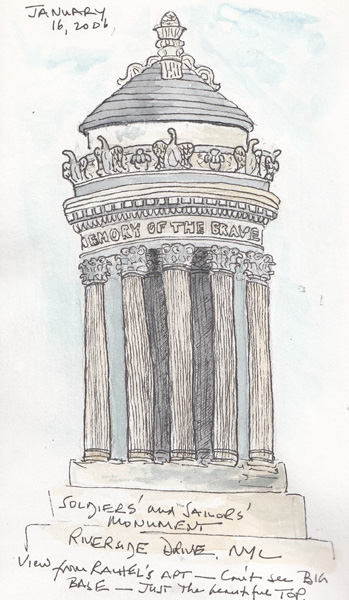 In 2010, when my son's boy Zach was taking his nap, I sketched the top again. I remember being disappointed that 4 years of daily drawings hadn't changed my style very much.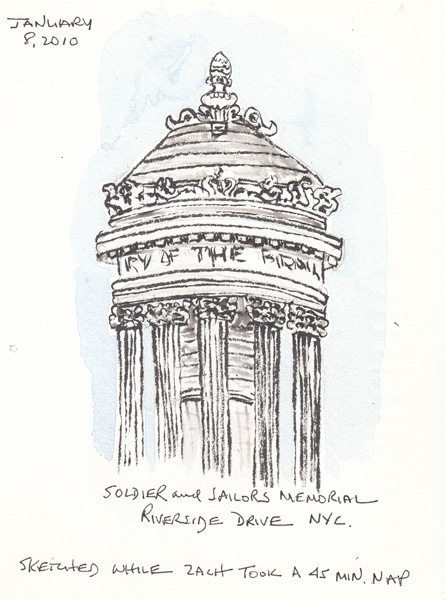 Yesterday I sketched and painted the full Memorial from a bench on the plaza. It was much harder than just painting the top layer! Many times I've been with one or more of my 6 NYC grandchildren while they rode their bikes and scooters around the large plaza, so this was a real memory drawing for me!