Watercolor Painting Class - More Chinese White
I had my FIT Watercolor class last night, and did a painting with transparent watercolors on cardboard painted with Chinese White. Our model was excellent and she was in the same pose, in 20 minute blocks of time, all night. I underpainted my binder's board cardboard (a 7.5 X 11 in leftover piece from bookbinding) at home, so it was dry. All of the painting was done with Winsor Newton transparent watercolors and a #10 brush.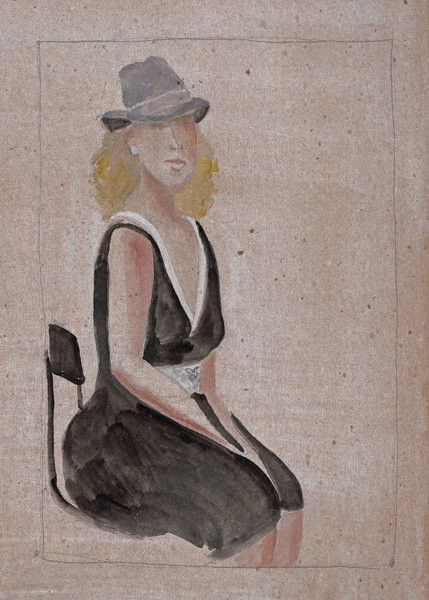 Our Professor wasn't ready with his demo, so I sketched her with a Sketch and Wash pencil out of boredom.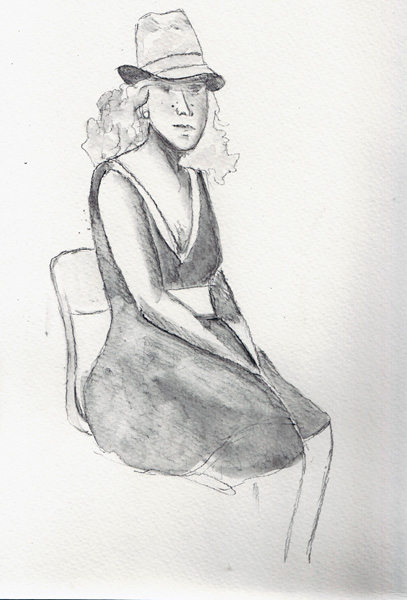 He then demonstrated using gouache, using what he calls "body color," which was really Brilliant White Pebeo Gouache mixed with his transparent watercolors (lamp black, yellow ochre, and vermillion). I had trouble achieving strong color when combining the gouache and my watercolor. He showed us Toulouse-Lautrec paintings as examples, and said you could also add a little cobalt blue or Paynes Gray.
With both of these paintings, I had trouble painting her skin because the water changes the color of the cardboard and I needed to adjust for that. Next week - more painting with gouache and the introduction of another substrate. He mentioned using black gesso painted substrate and even black foam board during some of our remaining classes.