Boat Pond and Flowers
We love to go the Conservatory Water Café in Central Park on weekend mornings. It is possible to linger over coffee while drawing, reading, and listening to nearby conversations. And the view over the boat pond is terrific. When we arrived last week there were ducks in the pond and a cormorant who was taking deep dives as he swam the length of the pond.
To us, it is always referred to as the Boat Pond, because of the remote control sailboats that can be rented. Aficianados also race their boats on Saturday mornings, just as the Storytelling session across the pond at the Hans Christian Anderson sculpture begins.
Boat Rental: Last weekend I sketched the lady in charge of boat rentals as she was checking her phone while waiting for customers for the rental boats and the T-shirts for sale.
There were lots of flowers blooming around the café, and lots of bees on all of them. I sketched the day lily and then painted it back at our table, trying to capture the brilliant yellow and orange coloration.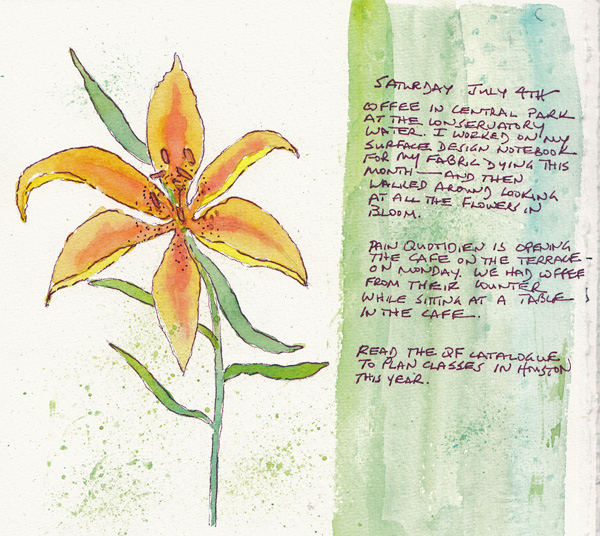 This week I also finally had time to paint the Beach Pickly Rose from photos I took at our June beach vacations.