Studying Under the Masters 2: Van Gogh
I registered again for Jeanne Oliver's class Studying Under the Masters, and this year the focus is on faces/portraits. I draw from the Masters in museum and gallery exhibits whenever I visit, but I rarely can paint from their works. So this class gives me an opportunity to study an artist a little more in depth, copy a painting, and then paint one of my own using some of the techniques learned. Here are my blog posts from last year's class, 8 artists in just over 8 cold, winter weeks. In most instances I copied oil paintings in watercolor and gouache to expand my knowledge of those mediums. <http://www.paperandthreads.com/2014/01/studying_under_the_masters_mat.php>
This year Jeanne selected Vincent Van Gogh as her Master Artist and began by copying one of his watercolors. I LOVE his drawings and watercolors and have copied several of them before. But this was a new opportunity, so I painted Vielle Paysanne.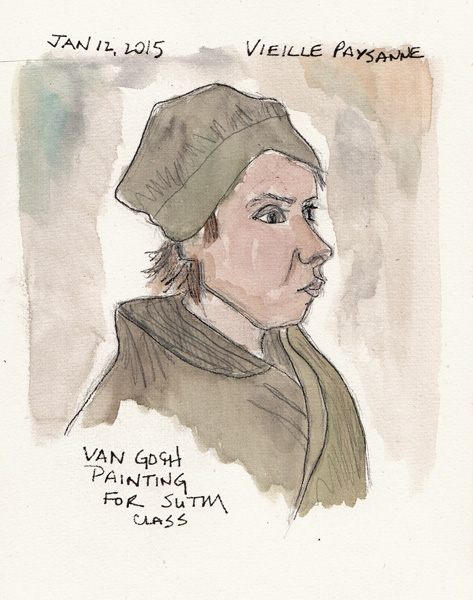 Van Gogh did two paintings of Dr. Gachet, his doctor during the last months of his life. I chose one of them to copy, and here is a copy of the original oil painting (left) and my painting in watercolor (right). He looks somber in the original, but less so in my copy - not my intention.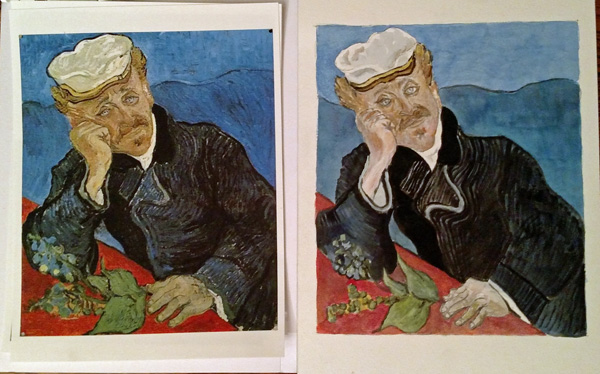 I was inspired by the story of Johanna Van Gogh and used her photos as a model for my "original" inspired by Van Gogh painting. She was the wife of Vincent's younger brother Theo. When Theo died, six months after Vincent, Johanna was left all of Vincent's art. At that time his work was not appreciated, and she spent years arranging exhibits and sales in order to bring his work to the attention of the European public. When reading her story, I was impressed by the tremendous efforts she made to preserve his legacy - a widow of just 28 with a new baby.
I chose bright colors, split complementaries, like Van Gogh might have used, and short brushstrokes with watercolor paints.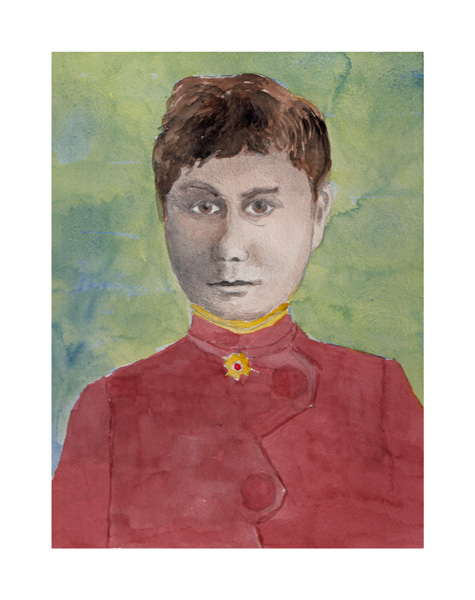 What I learned about Van Gogh:
His entire art career spanned only 10 years.
During that time he created 864 paintings, 1030 drawings, 147 watercolors, plus a few works in other mediums.
There is now controversy about his cause of death, with some believing that he was accidentally shot in the stomach by someone while walking in the fields because suicides are rarely caused by gun shot wounds to the stomach.
Next Week: Pablo Picasso