Sketchbook Skool Homework in Paris
I am enrolled in Sketchbook Skool Semester 3 - Storytelling, and just have to fit it in to an overfilled schedule at the moment. I watched Koosje's videos during Week 1, but couldn't even think about the fun assignments until we arrived in Paris.
Instead of illustrating a recipe, I outlined the steps for packing for our trip, and painted my suitcase, carryon, and mini-backpack. We rented an apartment that was up 3 flights, so we packed very lightly.
Recipe Equivalent for Koosje's Homework Assignment #1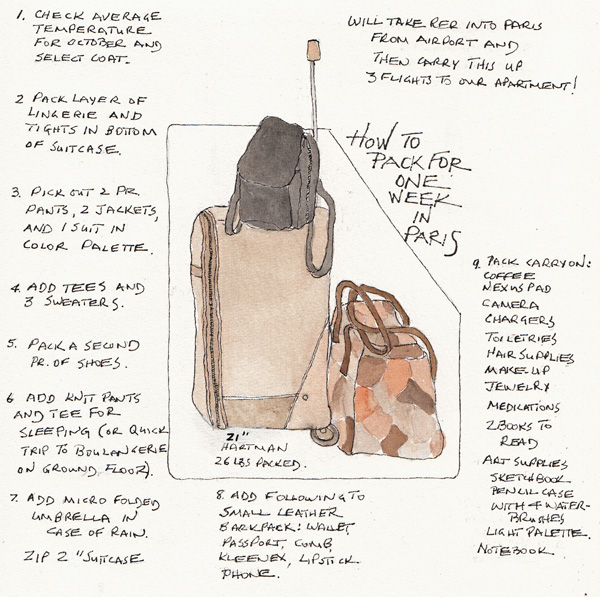 The apartment had a modern microwave and I just wanted to use it to boil water for my filtered coffee. But first I had to read a manual in 3 languages, searching for the simple method of just setting a time and pushing a start button. So this is my manual: How to Boil Water for Coffee in a De Dietrich Microwave.
Melanie Reim was the Week 2 instructor and I was thrilled to have her class videos to watch on the day we arrived, so I could try to stay awake. For my home work I recorded what I was seeing in front of me In Notre Dame as we waited for the organ concert to begin. But alas - no concert and no announcement.
Notre Dame de Paris - the Organ Recital That Wasn't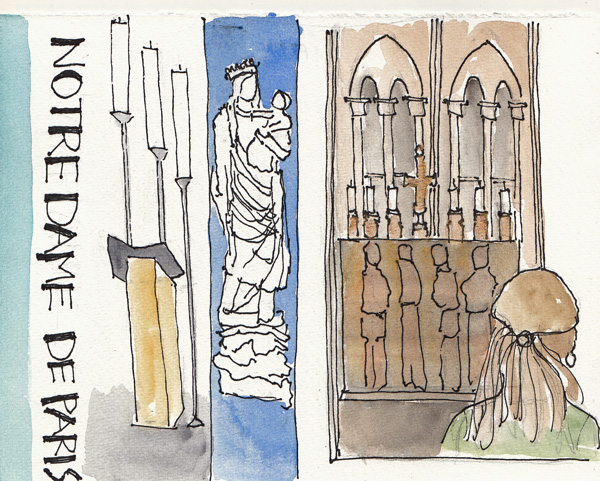 My other "in the moment drawings" were of my husband - on the Metro, in a café, and then over onion soup for lunch. Of course he doesn't think they look like him, but I think I'm getting closer.
At Lunch at Brasserie L'Atlas