Recent Sketchbook Pages
My oldest grandson was singing in the Middleschool Choral Festival on Wednesday. I arrived early and listened to each individual school practice and sketched the center altar in the church they were using for the concert. I sketched in pencil, then Tombow black marker, and then added water with my waterbrush.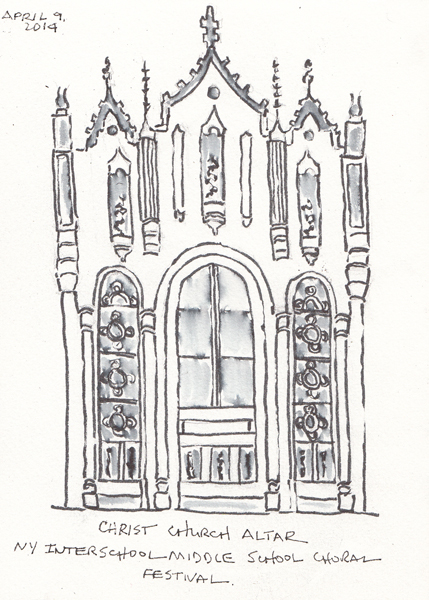 Yesterday I went to see two exhibits with my friends Bendicte and Pat. There is an amazing exhibit at Neue Galerie on Degenerate Art as designated by the Nazis and featured in Munich in an exhibit of the same name right before WWII.
http://www.neuegalerie.org/content/degenerate-art-attack-modern-art-nazi-germany-1937
Many of the works shown at Neue are done by my favorite German artists. I sketched a sculpture by Ernst Barlach called "The Reader." It was considered "degenerate" because of the book which they considered the sign of an intellectual!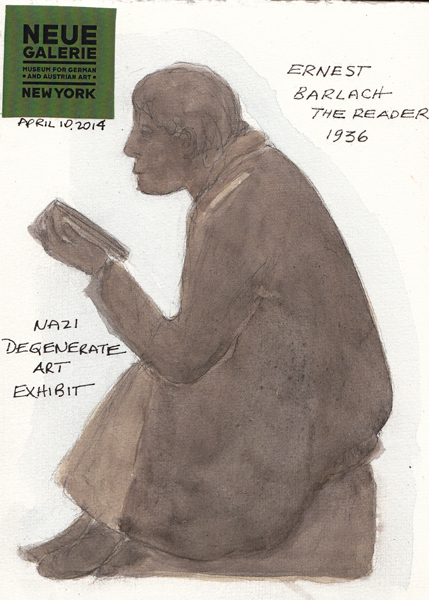 On our walk up Madison Ave to lunch I found this beautiful bloom at the top of a trash can and took it to paint during while we ate.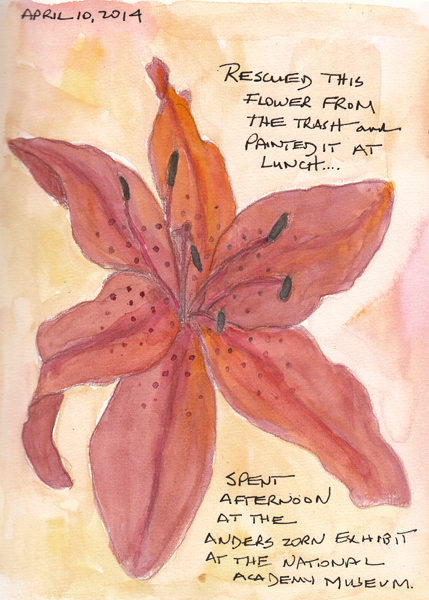 We spent the afternoon at the National Academy Museum seeing an exhibit by the famous Swedish Artist Anders Zorn. His etchings and watercolors were brilliant and I'm posting photos, not sketches - which would have been impossible.
http://www.nationalacademy.org/anders-zorn-swedens-master-painter/
A Zorn Watercolor (from my photo): This also appears in the link I included.
A Zorn Etching: