Studying Under the Masters - Chagall 2
This is my painting that was inspired by Chagall.
I did family research on my husband's Jewish ancestors more than 10 years ago and decided to try to make this painting a tribute to them. Both of his sets of grandparents were from shtetls in Belorus - one near Minsk and the other near Grodno. His paternal grandfather Sam was a scholar and came to America early in the 20th century, settling in New York City, His maternal grandfather Meyer sold grain in Russia, and was a peddler on the lower Eastside - after his arrival almost 10 years later than Sam.
The buildings were drawn from a photo I obtained of the shtetl near Minsk. And there were multiple peddlers in the photo each carrying one of these large baskets full of bread. The fiddling goat to me means joy and the man, woman, and child represent all of their children and grandchildren who survived because they left Belorus before all of the people in their communities were murdered by the Russians and Nazis.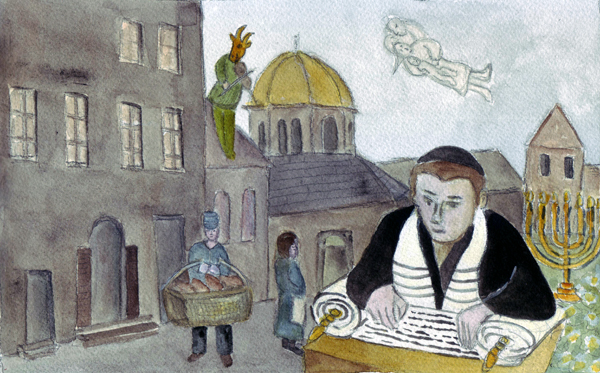 As we were starting our week studying and painting Chagall, I found this statement that Chagall made about his paintings, "I do not understand them at all. They are not literature. They are only pictorial arrangements of images which obsess me.... The theories which I make up to explain myself and those which others elaborate in connection with my work are nonsense.... My paintings are my reason for existence, my life, and that's all."
from Frederick Hartt: Art: A History of Painting, Sculpture, and Architecture.
My painting was done with Winsor-Newton watercolors on Arches 140 lb cold press paper.