For Book Lovers
I had a big birthday this past summer and my oldest son recently arranged a belated birthday adventure for me. We both love books, and he decided that he wanted to find a unique used bookstore, somewhere in the country outside of New York City, and make that our destination.
He picked me up early this past Sunday and we started at his favorite coffee place in Piermont NY. Cyclists ride up Route 9W to Piermont (including my son), and they stop at Bunberry before riding back to the City. It is a very old and quaint town, a place that had a railroad connection to the Hudson River for transport of goods up the river.
We then proceeded about 100 miles up the Taconic Parkway to Columbia County to Rodger's Book Barn. I can't even begin to describe this incredible place. Maureen Rodgers opened this store 40 years ago and says that she has 40-50,000 books. It is in a rural area, with lovely farms, barns, and cows. Before GPS, Maureen told me that visitors would call her when they got close and needed directions for the final few miles. There are multiple rooms on two floors - all full of books and other memorabilia. We browsed for 2 hours and each of us left with many books. I picked out 15 - for a total of $35! Here are a few photos that I took.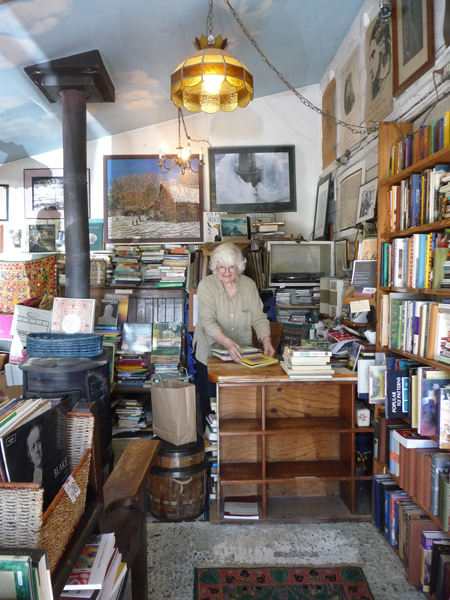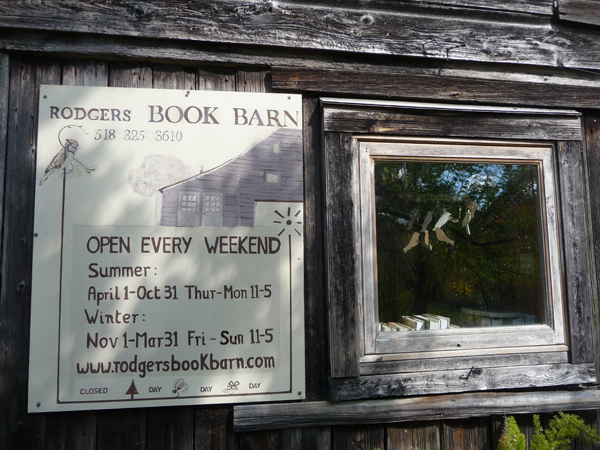 He selected a specific restaurant in Hudson, NY, a nearby town, for a late lunch. We were impressed at how this town was resurrecting itself with so many upscale restaurants and shops. Lunch was delightful, and I did my only sketch of the day while we were waiting to be served. We then walked along Warren St. and were intrigued by one really cute place that served interesting beer, sold many new books, and had a full room of art supplies.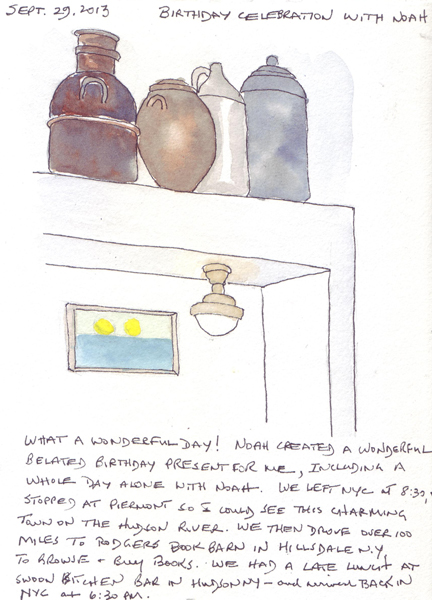 I'm including business cards for the Book Barn in Hillsdale and the restaurant in Hudson for anyone that is passing through Columbia County, NY on the NY Thruway. Both places really deserve a visit.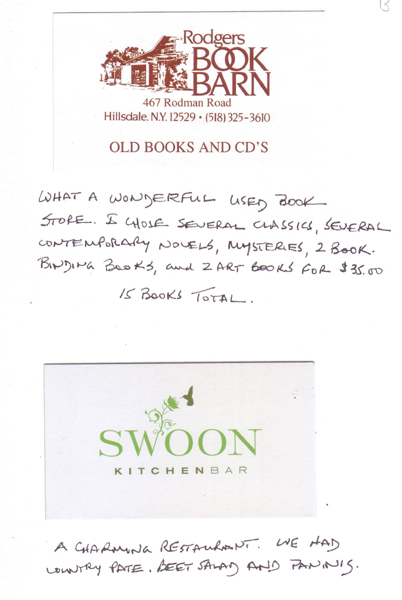 We returned to New York City at 6:30 PM - with our book bags, happy and full.