Deliberate Practice
I love to draw from the Masters and try to analyze paintings and drawings during my museum and gallery visits here in New York City.
There is a new exhibit at MoMA, called American Modern: Hopper to O'Keeffe. All paintings, drawings, sculpture and photographs are owned by MoMA and curated for this specific exhibit. I loved several of Charles Burchfield's paintings and especially a painting called The City, 1916. It was such a lovely loose architectural painting, that I was hoping that I could, sketch it, paint it, and try loose paintings like this is the future. I sketched a portion of the painting in the museum and then painted it at home from a photo that I was allowed to take.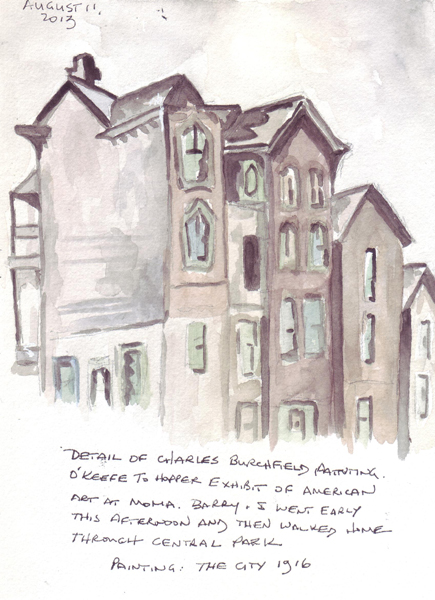 My husband and I saw a Reginald Marsh exhibit, called Swing Time, at the New York Historical Society last week, right before it closed. I've always loved his paintings of New York City - especially those with a subdued palette. I was fascinated with his use of ink, and I think thin paint/tempera lines, to delineate his figures. I sketched one from Harris Street Theater, 1940, so I could paint the figure and then add ink.
I also liked the woman on the far right of BMT 14th St. and just needed a drawing of her head to remember her.