This Week in New York City
This is a quiet week in New York City - as many people leave the city over the Holiday. Last Friday my husband and I went to see the current Maurice Sendak exhibit at the Society of Illustrators. WOW!! My children grew up with his books, starting with Where the Wild Things Are and the Nutshell Library. We then bought In The Night Kitchen and Outside over There when they were published. I thought that I knew his illustrations, but I really never appreciated his drawing skills and draftsmanship until I saw the originals one week ago. He is a master of pen drawing - crosshatching and lines.
One of my favorite Sendak characters was Really Rosie and my children, and now grandchildren, love the video with Carole King. So to commemorate this amazing exhibit in my sketchbook, I copied a sketch of her!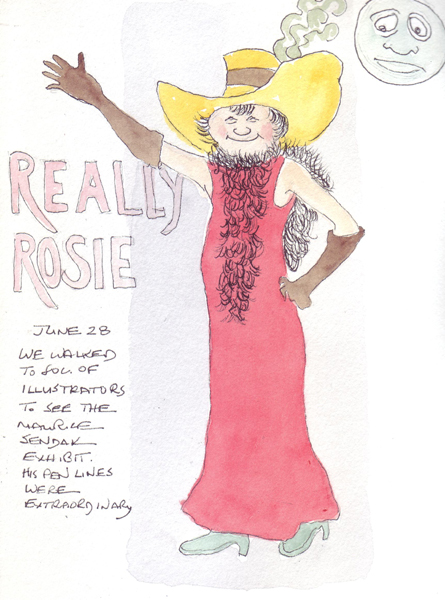 On Wednesday I went to Battery Park for their adult art programs - Nature in Wagner Park in the morning and Figure Drawing in the afternoon. Thank goodness I had fun painting two flowers - because we were caught in a freak downpour at 2:30 and our outdoor figure drawing session was cancelled.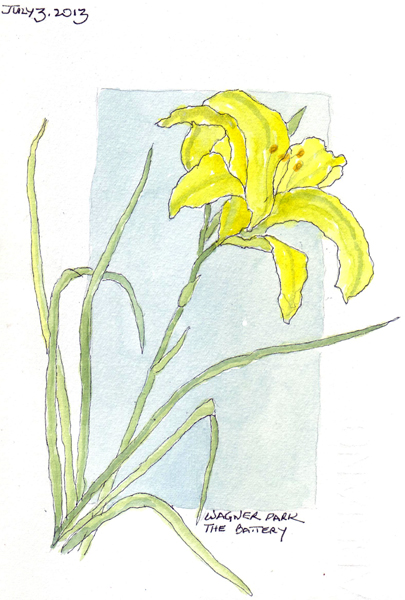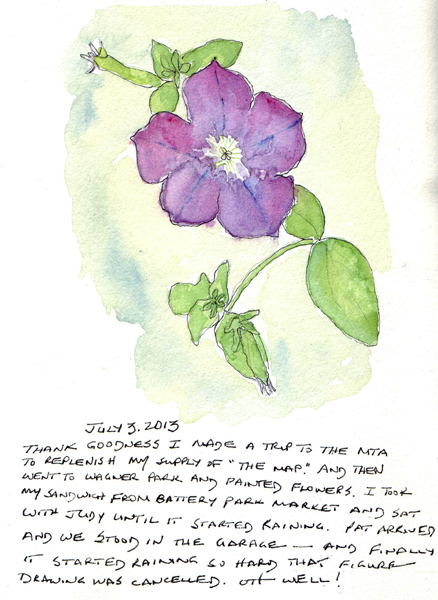 I'm taking another Mary Ann Moss online class. My first introduction to her was with her "Remains of the Day (ROD)" class which I adored.
This past Christmas I took her Ticket to Venice on-line class - and made a unique long stitch book and accompanied her to Venice through photos, postcards, and many videos. I was in Venice 6 months before Mary Ann and relived my fabulous vacation!
Yesterday her "SEWN" class started - a summer fun class for making lots of patterns on papers which will then be sewn in other projects. I signed up without knowing the details because I LOVE her classes. She has a huge following and there was growing excitement about the start date for this class - although anyone can sign up for the class at anytime. Yesterday several hundred class members made sheets and sheets of patterns - pure play - disengaging our brains and just painting.
I made several sheets of patterns using watercolors and then created one page in my sketchbook just to commemorate the new class. Can't wait to do the same today, using acrylic inks.