Visual Journal
My "Daily Watercolor Sketchbook" is my visual diary - the place where I try to include bits and pieces of my life. I also have specific destination travel sketchbooks, a figure parts practice sketchbook, a live figure drawing sketchbook, and a doodle notebook because I need to encourage myself to loosen up.
Here are some daily sketchbook pages from the week before the Beach and after we returned.
Desk Chair that I Can See From my Special Place on the Couch: I prepainted this page when I had some leftover paint on my palette.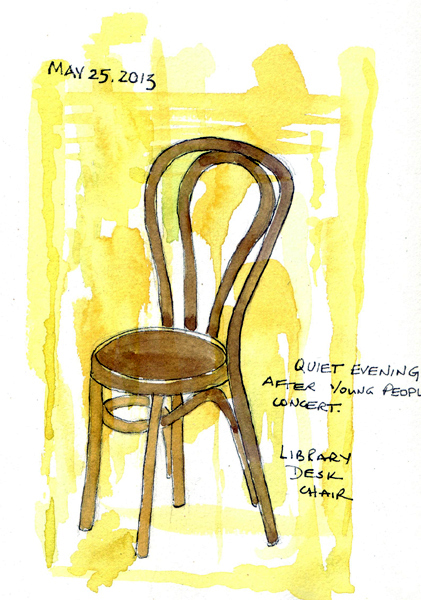 Cut Hyacinths and My Blooming Gloxinia: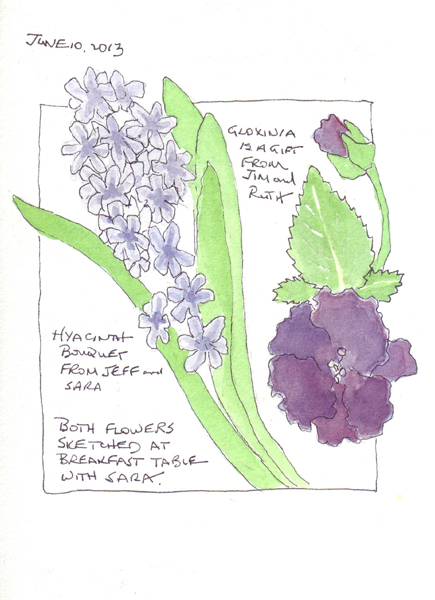 Duck for Charlie and Sea Gull for Robbie and Zach: We had baby Charlie overnight while his two big brothers were at the beach with their Mommy and Cousins. The duck is a quick drawing of part of the Hans Chrisitian Anderson statue in Central Park - where we stopped to feed Charlie his afternoon fruit. The sea gull is from one of my many photos from our week at the beach.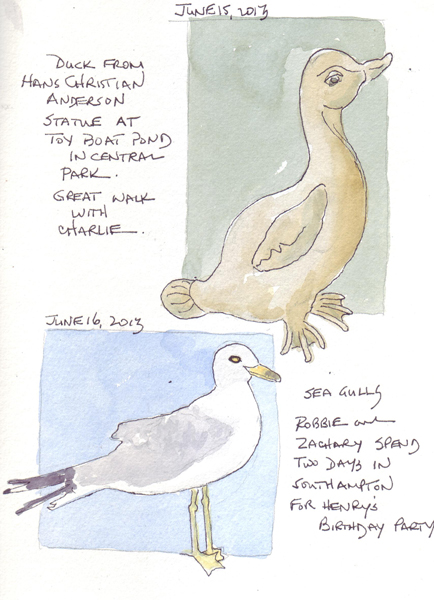 NYC Dinner with Cousins: Another Pre-Painted Background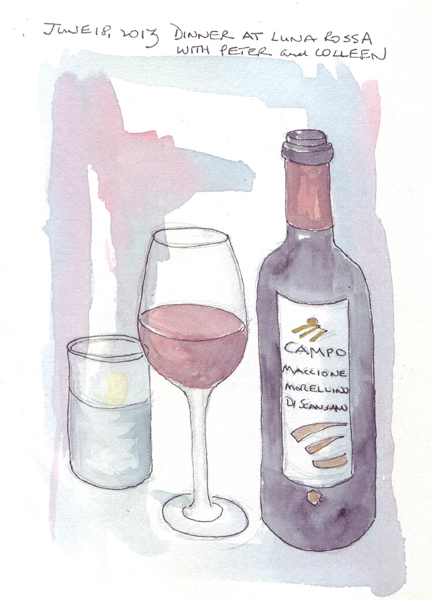 Edward Hopper Exhibit at the Whitney Museum: Teri, Pat, Benedicte and I had brunch, went on a tour of the current permanent collection exhibit with my friend Gail, spent 2 hours in the Edward Hopper exhibit, and then went gallery-hopping in the neighborhood. I was so over-inspired that day that it is hard for me to remember what I wanted to try next. The Hopper exhibit has >200 of his drawings and 20+ of his paintings. Many of the drawings are preparatory to the paintings. Others are fabulous figure drawings or drawings of parts of the human figure. I highly recommend getting to NYC to see it before it closes on Oct 6th if you love master drawings and some pretty famous Hopper paintings.