Playtime #2 with Gouache
My first artist grade watercolors were 3 warm primaries and 3 cool primaries - because I wanted to mix my own colors, like I do with procion MX dyes for fabric. Laura, of Laurelines.... was posting some color studies that she did and I decided to spend 6 months, one for each primary and secondary color, mixing my 6 Winsor Newton primary triads to explore a full range of colors.
Each month I collected items of the "color of the month" and tried to mix colors as closely as possible to paint them. Those sketchbook pages can be seen by scrolling down in the color project category on the right side of my blog - under Archives.
Now I'm experimenting with my first artist grade gouache and I spent another wonderful playtime mixing complementary colors from my 3 tubes. The primaries, secondaries created, and some glazing from playtime #1 can be seen here.
This time I wanted to mix complementary colors using red + green, blue + orange, and yellow + purple. I didn't spend much time mixing the secondary colors, i.e. I didn't try to match them to colors created in my last playtime. I stayed very loose! My three primaries are all identified in the 3 spectrums.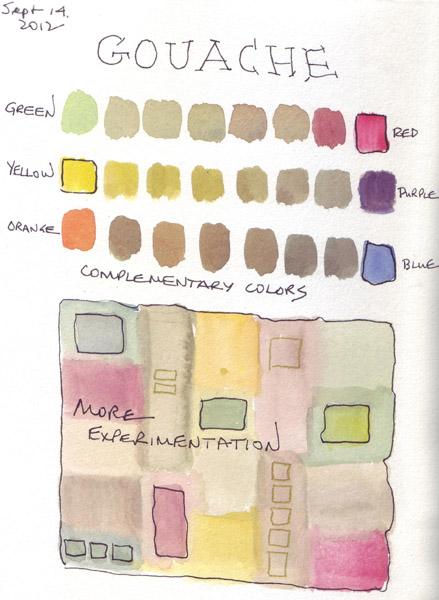 I wanted to try to mix all of the colors in a small sketchbook painting and found a perfect reference photo - a scene near Place des Voges taken by our cousin when the 4 of us were in Paris in 2005. I tried to match the colors in the photo as much as possible, although I still need to work harder to get the darkest gray possible. One turned out too purple and the other too brown.