Several Daily Sketches - from this week
The new American Wing Galleries just opened at the Metropolitan Museum of Art and the space is amazing. I realized that I know very little about early American Art and, but quickly realized that I don't especially like the realism and preponderance of portraits and landscapes. I do love Winslow Homer watercolors and couldn't find one. Maybe when the collection is expanded to include more 20th C. artists, I will fall in love.... My one sketch for the visit was from a marble urn with 2 American Indians perched on the sides. I sketched one of them at the Museum and painted him at home - purely from my imagination since he was sculpted in white marble.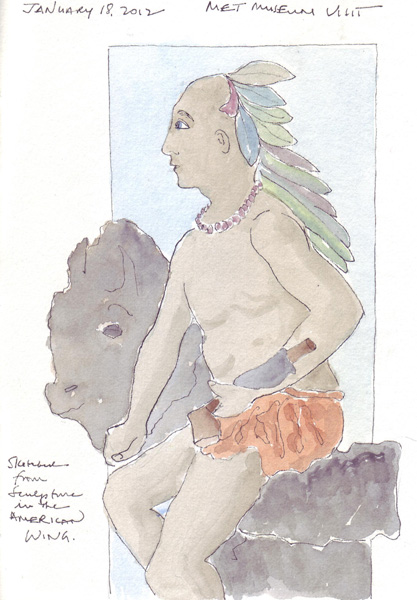 I had my 3rd lesson by Jane Davies on Self-Portraits and just had to show you the results of my loosening up exercise. These were blind contours - some as one-liners and others not. I giggled when I looked down after each one.... I actually like the wonkiness of blind contour drawings, but I've never been sure that I gained much from doing them - except having fun.