A Day at the Metropolitan Museum of Art
Our Journal Study Group, minus Teri, went to the preview of the new Islamic Art Galleries at the Met this week. Wow! The space was closed in 2003 for renovation and they even brought in artisans from Fez, Morocco to create special architectural decorations. There are 15 galleries full of amazing art - beautifully arranged. At the end of our walk through all 15 galleries, we split up and each went to sketch one thing - meeting 30 minutes later to share our sketchbooks and go to lunch.
I sketched 5 very small (3 inches high or less), wonderfully decorated cosmetic flasks which were used to hold Kohl powder. The notes said that the powder was picked up with a small brush inserted through the tiny hole on the top. They were made in the 10th-12th C in Iran or Central Asia. I put the shapes of a gorgeous vase and an ewer behind them to add some scale and contrast.
After lunch we went to "Stieglitz and his Artists: Matisse to O'Keefe" This was his personal art collection - much of it from artists he supported in the early part of the 20th C.. It was my second visit to this exhibit and I'm sure not my last.
Alfred Stieglitz introduced America to Matisse and Picasso through shows at his gallery "291." Both artists were later exhibited in the famous 1913 Armory Show (International Exhibition of Modern Art) which was a landmark exhibition. These drawings from 291 were donated to the Met and were among the first pieces by either artist in the Met's collection.
The first time I went, I sketched an early Matisse drawing in order to learn more about his "lines." It is called "Nude With Bracelets" (1909).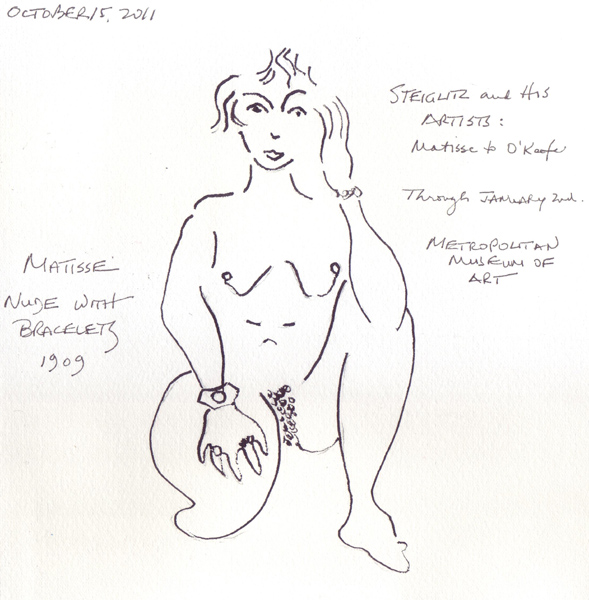 During the second visit I sketched another Matisse nude and a very small Picasso drawing done on ledger paper. I was able to link to the originals from the Met's Collection.
Matisse Reclining Nude (1907) and Picasso Study of a Harlequin (1904-5 to show the originals)