Every Day in May - 1
Elena Nazzaro, French Toast Girl, proposed an "Every Day in May" creative project several years ago and several members of Every Day Matters decided to sketch/draw everyday and upload their work to their blog or the EDM Flickr group. Elena created the above logo for anyone who was participating.
I almost always sketch every day, but only upload some journal pages to my blog twice each week. But each year in May I upload a sketchbook page everyday - the good, the bad, and the ugly. I think it is a great exercise for my internal critic - and shows the randomness of my visual journal pages. In the beginning of the month I think more about it and by the end of the month I'm more relaxed.
So here are my entries for today - 3 sketchbook pages that I did yesterday while my husband and I viewed Impressionist and Modern Art at Christie's and Sotheby's that will be auctioned next week. Each day I will post the sketch(es) that I did the previous day, since I usually do them in the evening.
Picasso: "Toros," inspired by a Picasso Linocut in red, yellow, and black and a Picasso gold pendant for a necklace.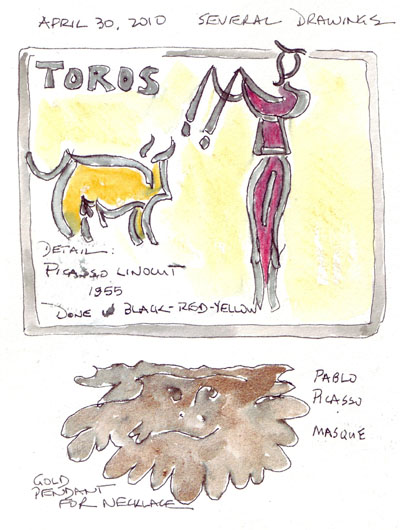 I fell in love with a small Henry Moore sculpture at Christies and had to draw it. I sketched it with a Pilot Varsity pen and then used a waterbrush to "paint" it with the water soluble ink. The auction price estimate is $900,000-1,200,000. I'll have to watch the website and see the sale price after the auction.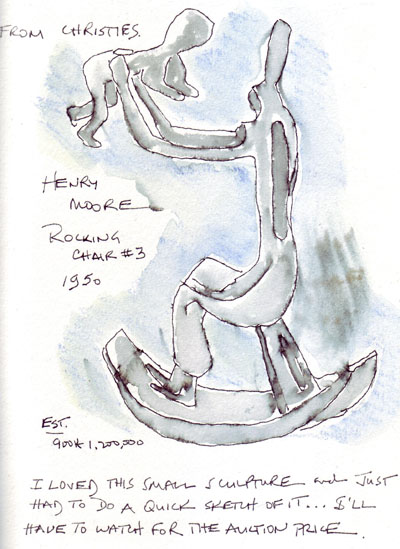 After a delicious lunch at Dos Caminos we walked to Sotheby's to see the art in their auction next week. We found a nice bench in the galleries for an after lunch rest and the only interesting thing I saw from my position was a Calder mobile. Drawing it was more challenging than I thought.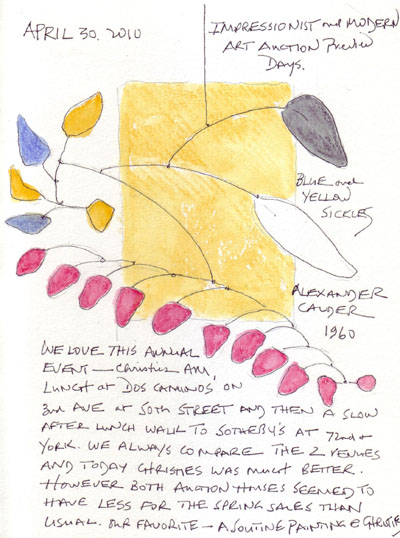 We also saw Michael Crichton's Contemporary art collection that is being auctioned at Christie's the following week. I really liked his pieces by Jasper Johns and Robert Rauschenberg. There were so many pieces in the collection, that I wonder how many are NOT being sold.