Every Day in May 26, 27, and 28
Real life schedules got in the way of daily posting again this week, so I have 3 days of journal pages being uploaded this morning.
I made lemon squares for dessert on Tuesday right before bed and was too tired to draw anything except the small, very fine strainer that I used to add the powdered sugar on top of the squares.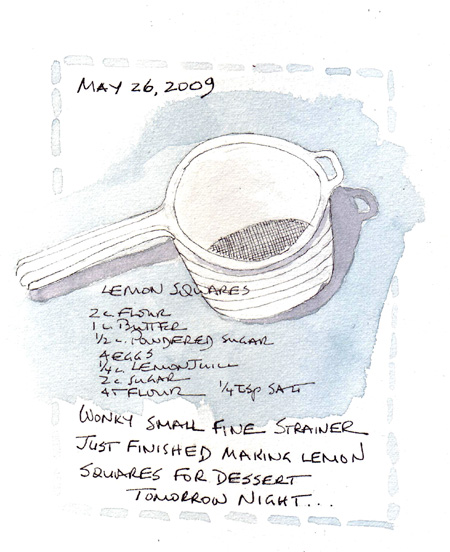 No time to even consider something more than a 5 minute figure drawing sketch at bedtime. When will I learn how to guage the size of the paper, or scale down my drawing even more? It is really hard to make ballet "turnout" convincing in this position unless you can see the position of the back foot!! Another lesson learned. This was sketched with a watercolor pencil and then "painted" quickly with a waterbrush when my timer rang at 5 minutes.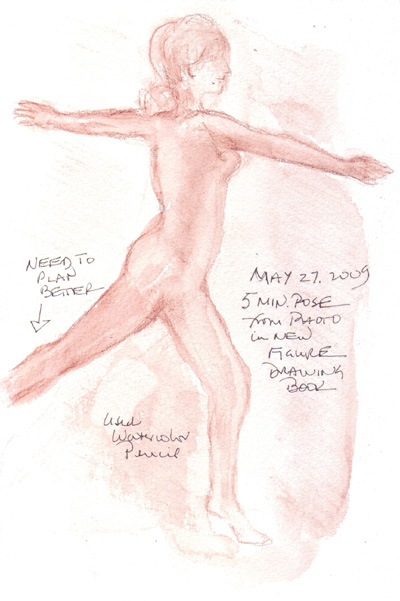 A full day at work yesterday and then to the theater to see Jeffrey Rush and Susan Sarandon to see "Exit the King." I planned ahead for my daily journal page and doodled during a 90 minute morning meeting. I usually don't leave drawings unpainted, but it was fun to sketch in pen (without a quick pencil sketch) and I wanted to remember my graphite-free page.