EDM Challenge #210: Draw Underwear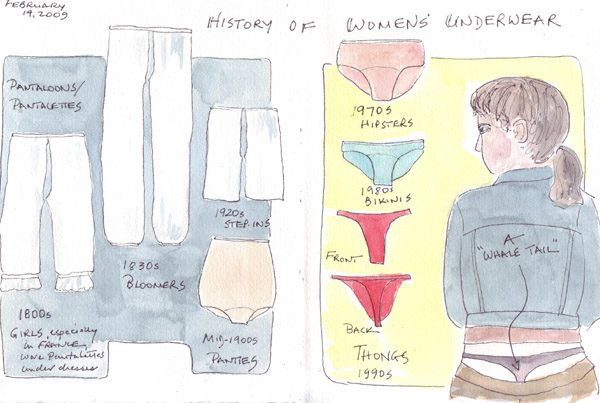 During the Medieval period, women wore only long shifts (chemises) under their clothes. Pantaloons and pantalettes were worn under dresses, especially in France, by young girls, but it wasn't until the 1830s that women regularly wore bloomers with tight ankles and two legs attached at the waist with a draw string.
During the late 1800s and early 1900s, bloomers were shortened as skirt lengths rose and by the 1920s women were wearing short panties with wide legs, called step-ins or boy shorts. They were still commonly made of two legs which were attached at the waist.
During the 1930s and 1940s, women wore girdles and then by the 1950s panties as we know them. From the mid-20th Century to the 1990s, granny pants became hipsters, then bikinis, then thongs.
The transition from bikinis to thongs, especially worn with cropped shirts and low waisted jeans, has resulted in more visible thong underwear and bare skin among my women medical students than I care to see. My kids call this sighting a "whale tail." What will the next fashion trend bring?