Autumn in Washington DC
We spent the Columbus Day weekend with our youngest grandchild in Washington DC. When she was born I started a Cachet Linen watercolor journal for our visits to DC - the same journal that I used for my 3 London travel journals for my other grandchildren. I try to do a visual journal page for each day of our visit,
We went to the annual Navy Day when we arrived Saturday, but Annabelle slept through it while my two oldest grandchildren, who were also visiting DC, had a fabulous time climbing on huge military vehicles. But she now loves her Exersaucer and while we were babysitting for her spent many happy minutes playing in it. Here is a cropped version from my position in a nearby chair.
Sunday morning we took Annabelle for a really long walk around Capitol Hill and saw Halloween decorations whereever we walked. One house even had pumpkin vines tied up to their wrought iron fence and many pumpkins in various stages of growth. I captured one of the bigger pumpkins and the vine in one of my drawings.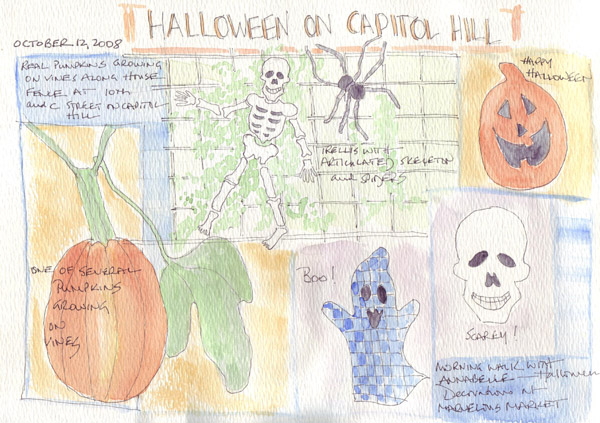 On Monday we took Annabelle up Pennsylvania Ave to buy some new books for her and then I visited Capitol Hill Books (in a row house across from Eastern Market) for the first time, to survey their incredible collection of used books. I found a book about the history of Chelsea - in London - which is where we stayed during our year traveling back and forth to London to visit my daughter and her family. It was a great read for the train coming back to NYC. What is not in my drawing are the stacks of books that completely obscure the front windows upstairs and down. Yet inside the collection is wonderfully organized over 3 floors. A must visit now for me for all subsequent trips to see Annabelle.