Weekend in Washington DC
I had one more Cachet Linen Watercolor Journal from my original purchase, and decided that I would take it to Washington DC with me every time I visit Annabelle. It is the same type of journal that I used for our multiple trips to London to visit our other grandchildren when they lived there. The 3 London volumes are part travel sketchbook and part grandchild visual journal because lots of the drawings are of their toys, or experiences in their lives.
I printed my previous sketches of Annabelle's house, the US Capitol, and two facades of Eastern Market (before the fire) on plain paper with an ink jet printer and collaged them on the first two pages of this DC journal as an introduction. Those drawings can be found in the Washington DC category on this blog (see category list on right hand side of the webpage). I completed 5 pages during our first visit with her and most are already posted. I did the following drawings this weekend.
I asked my son and daughter-in-law about their favorite newborn toys - and painted both their favorite rattles and her new crib mobile. They think her favorite animal on the mobile, based on the kicking and cooing of a 3 month old, is the donkey, so he has a portrait by himself.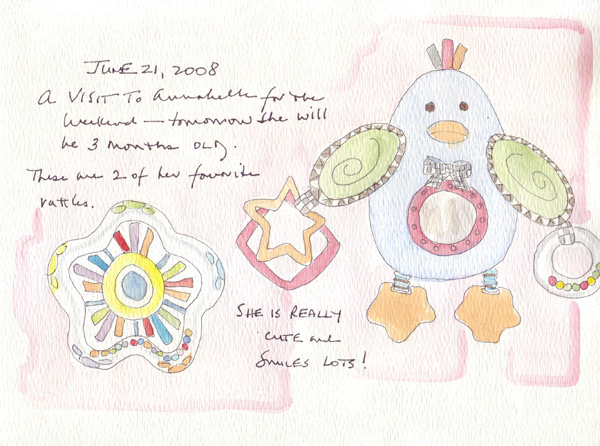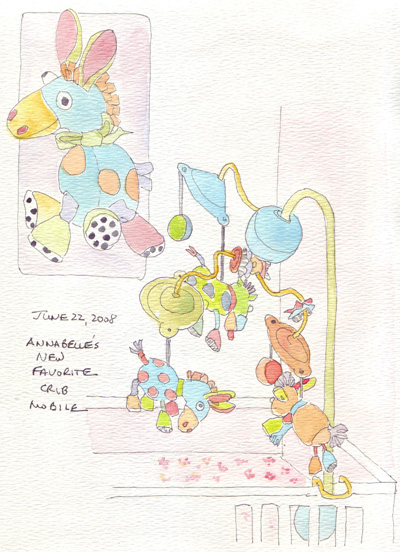 On Sunday afternoon we took Annabelle on the Metro in her stroller to the National Museum of Natural History. At the end of our brief visit, they went to feed her and I stayed in the rotunda to draw the elephant to document her first visit there and the fun we had on our adventure.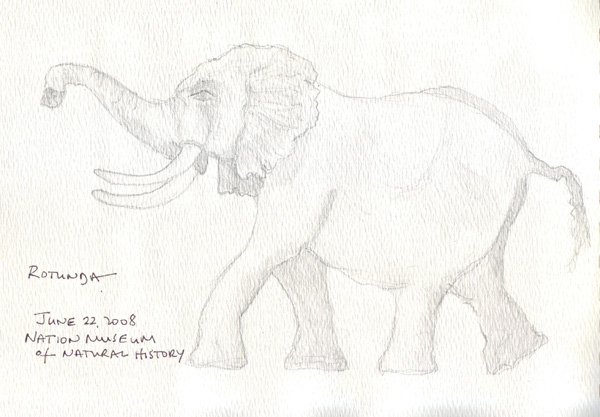 I sketched and shaded the elephant with a Derwent light wash pencil and then blended all of it with my small Niji waterbrush.