London Visits #24: More Museum Visits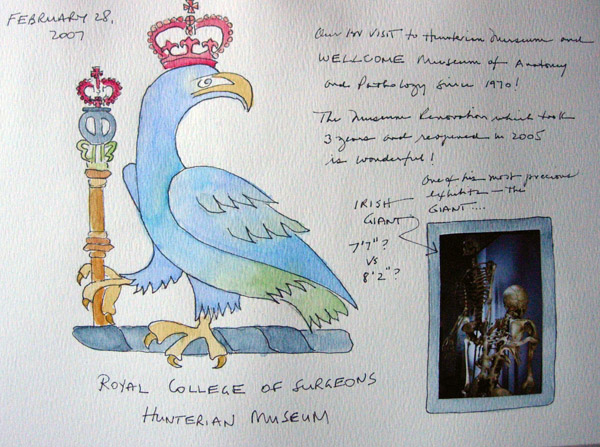 Thirty-seven years ago, on our first visit to London, we visited the Royal College of Surgery Hunterian Museum. It recently underwent a 3 year renovation and reopened in 2005. The history of William and John Hunter and how the specimen collection was obtained is fascinating and they did a wonderful job presenting lots of relevant information about the times in addition to the many specimens. One of John Hunter's prized possessions was his sketon of the "Irish giant" and I collaged a photo from the brochure on this page with the Royal College of Surgeons logo (in my own colors).
I met Katherine Tyrrell <http://makingamark.blogspot.com/ > again to spend another "art day" during our visit to London. This was my first visit to Bankside Gallery where they currently have the Royal Watercolor Society's 21st Century Watercolor exhibit. I loved seeing the exhibit, the gallery, and the book store. If the exchange rate weren't so dreadful for Americans visiting England, I'm afraid I would have purchased several new art books! We then had lunch in the Member's Cafe at Tate Modern (which is adjacent to the Bankside Gallery) and sketched as we looked across the Thames. Katherine sketched the area around "the Gerkin" and I faced the other direction and sketched Puddle Dock and the Blackfriars train station. I love glancing through her sketchbooks when we meet. She has wonderful pen sketches and many more detailed pages using colored pencil.